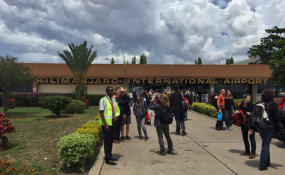 Photo: Daily News
By Daily News Reporter
Arusha — THE Tanzania Tourist Board (TTB) has underscored the need for direct flights from Tanzania to China, to attract more Chinese tourists and reduce the costs emanating from connecting flights.
TTB's Board Chairman, Retired Judge Thomas Mihayo, said here yesterday that the rising number of tourists from China would largely depend on reliable and affordable air links between the two countries.
"It is now evident that there is a good number of tourists coming from China. Something must be done to revitalise trade links and strategic attractions of tourists from China," Judge Mihayo explained, stressing Tanzania's endowment with abundant tourist attractions.
He said tourism was potentially one of the country's leading economic drivers, which, if tapped fully, would contribute significantly to national economic growth and development.
Speaking shortly after winding up a tour of Ngorongoro Conservation Area and Manyara National Park by senior Chinese journalists, Judge Mihayo said the pace of tourists coming from China was encouraging. "The visit by these journalists is yet another opportunity for us to promote our tourist attractions.
I hope you are going to be our good ambassadors to your country and beyond," he said, recalling that the two countries share a long-time historical friendship.
He also called on local councils and investors to build hotels in areas in which tourist attractions are located, and join hands in solving infrastructurerelated problems.
Earlier, the TTB Managing Director, Ms Devota Mdachi, said the journalists' visit was part of the board's efforts to promote tourist attractions and enhance the flow of tourists to the country.
"They (journalists) have been highly impressed by our tourist attractions and promised to be good ambassadors when they return home," the TTB boss said.
Speaking on behalf of his colleagues, Mr Kang Bing, from Daily Media Group, said Tanzania had everything regarding tourism.
"We visited several places, including Ngorongoro Conservation Area and Manyara National Park where we saw a variety of fascinating birds," Mr Bing explained. He promised that they would be good ambassadors of Tanzania's unique tourist attractions through their reportage in print and electronic media outlets.
"The challenge we experienced is that there should be direct flights from Tanzania to China.
Many Chinese have shown interest to come to this beautiful country," Mr Bing said.
The journalists were from Beijing Press Group, China Daily, International Liaison Department, English news service, and China Radio International.