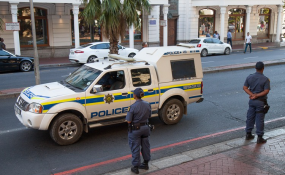 Photo: GroundUp
The minister of police should not be held liable for damages suffered by an Eastern Cape woman who was shot by her reservist boyfriend, because it was "a domestic setting", the Constitutional Court heard on Tuesday.
"This was a domestic setting and it mattered not whether he was in uniform," Advocate Ben Ford, for the minister of police, told the Constitutional Court judges.
Elsa Booysen filed for damages after her boyfriend, Constable Johannes Mongo, shot her in the face with his service pistol at her home in Pearston, Eastern Cape, on March 22, 2013.
"It cannot be that just because a man is issued with a firearm and does something wrong with [it], therefore vicarious liability must follow.
"It can't be that because you have a duty to not steal from me, and you steal, then I must be held vicariously liable," Ford argued.
But Advocate Gavin Dugmore, SC, representing Booysen, said Mongo had breached the trust she had in him.
"When a firearm is placed in the hands of the police, he is entrusted with a duty to control the firearm and its use. There was this aura of regularity, because he is a policeman," Dugmore said.
Booysen wants the minister of police to be held vicariously liable for damages that she suffered after Mongo shot her in the face.
According to the court record, Mongo was dropped off at the couple's home in a police vehicle during his break.
Not enough
The police vehicle was expected to return at a later stage for Mongo to resume his duties.
The couple had dinner and, while they were sitting outside after the meal he shot her and then turned the gun on himself. Mongo died as a result of the self-inflicted gunshot.
Dugmore also argued that the minister should have taken steps in the matter.
The Eastern Cape division of the High Court in Grahamstown agreed with her and ordered that the ministry be liable for whatever damages Booysen deemed fit.
The ministry appealed and the Supreme Court of Appeal set the ruling aside, with costs, in December 2016.
The SCA said Mongo was at the house for private reasons and not for work.
The fact that Mongo had been issued with an official firearm was not enough to make the minister liable because neither Booysen nor the police ministry had reason to believe he would shoot her.
The SCA found the couple's six-month relationship had been untroubled, and that even Booysen was surprised by the shooting.
Dugmore said the SCA had overlooked the trust Booysen had in Mongo.
Judgment was reserved in the matter.
News24