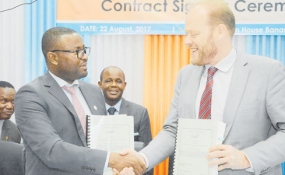 Photo: The Citizen
By Jimmy Lwangili
Tanzania Civil Aviation Authority (TCAA) and the government yesterday signed a 61bn/- deal for the purchase of four radars.Under the deal, over 10bn/- which could have been spent if the money was sourced from commercial banks will be saved, according to Works, Transport and Communication Minister Professor Makame Mbarawa.
Speaking at a brief signing ceremony, Professor Mbarawa said the government and TCAA would contribute 55 and 45 per cent, respectively, of the total costs. He said the envisaged four radars would be installed in four airports within an 18-month period.
The minister named the radar beneficiaries as Julius Nyerere International Airport in Dar es Salaam, Songwe Airport in Mbeya, Kilimanjaro International Airport and Mwanza International Airport.
He ordered Thales Air System SS, an engineering firm that has won tender to execute the project, to ensure that the project is complete within the specified time and at high precision.
"I believe TCAA will honestly and patriotically supervise the project implementation... I urge the contractors to work as per contract specifications.If you deliver contrary to specifications, the government will terminate the contract and subject you to fines," warned the minister. He underscored the importance of purchasing the new radars, arguing that they will strengthen safety and aviation security, increasing revenues through attraction of more airliners in the country's airspace.
"Upon the increase of airplanes using our airspace, the government will collect more revenues as taxes and fees. The tourism sector will also blossom as a result of increased airliners in the country," said Professor Mbarawa.
TCAA Director General Hamza Johari said the authority decided to purchase the new radars to replace the available whose capacity has deteriorated due to long-term uses, resulting into excessive maintenance costs.
He further explained that the radar purchase also aims at attracting more aircraft to use the country's airspace and boost the country's earnings. "There are some airplanes that cannot be monitored by this radar due to its low capacity but now we will be able to monitor all airplanes crossing on our airspace," he noted.
Mr Johari said under the project 33, TCAA workers will be trained by the engineering company on the use and maintenance of the new radars. He hinted that according to International Civil Aviation Organization (ICAO) study, TCAA has performed better, scoring 64.7 per cent this year from 37 per cent of 2013 on maintenance and regulation of aviation sector.
He asked the government to solve the challenges that face the Civil Aviation Training Centre, citing lack of enough space and shortage of training equipment as the critical hurdle, impeding its efforts to improve training and produce more skilled experts.
TCAA has also launched a new logo and website to improve its services.