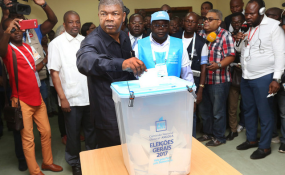 Photo: Pedro Parente
Ndalatando — The commander of National Police in the northern Cuanza Norte province Commissioner Simão de Sousa Pereira Inglês Tuesday assured the staff's readiness to ensure the public order and tranquility during the electoral process.
Simão de Sousa Inglês was speaking to the press in Ndalatando, the capital of the Cuanza Norte province.
The police commander put at more than 3,000 the number of the members deployed to secure the 297 polling stations and 507 polling tables in all municipalities, communes and villages.
He mentioned 700 police officers as being prepared to reinforce the security in the municipalities on polling day set for 23 August.
Some 157, 861 citizens have been registered for vote in the northern Cuanza Norte province.