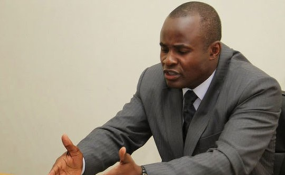 Photo: New Zimbabwe
Independent Norton MP Temba Mliswa Sunday castigated Cabinet members and called them a "bunch of worshipers" for supporting "insensitive decisions" that do not benefit the majority of suffering youths.
Mliswa spoke during the burial of Masvingo Provincial State minister Shuvai Mahofa at the national shrine on Sunday. He was commenting on the declaration of 21st February as Robert Mugabe National Youth Day by Zanu PF last week.
The outspoken MP argued that it was not Mugabe who made the decision to have his birthday declared a holiday.
"First of all it is not the President but its people who want to patronize the President. They want to be rewarded for their positions and definitely this is a Zanu PF issue and Home Affairs Minister Ignatius Chombo wants to protect his position by patronizing the President.
"This issue was not even debated in parliament at the end of the day. Parliament is there and has an oversight over the executive. There are so many holidays in this country and how can you have a youth day when youths are unemployed? You are actually creating more days of unemployment because quite a large percentage of youths are unemployed in this country," said Mliswa in an interview.
Mliswa also argued that Zimbabwe has several holidays both local and international. He suggested that Zimbabwe could also join countries like South Africa to celebrate June 16th as the youth day.
"There are so many holidays and they can even find one of the international holidays and join in celebrating the youth day. We need youths to have jobs and we need them to be celebrated at the end of the day because the unemployed make the larger population at the end of the day."
He also questioned Higher and Tertiary Education Minister Jonathan Moyo's idea of a recently unveiled $1 billion Robert Mugabe University whose trustees are the President and his wife.
"I do not deny that President Mugabe is an icon but, I think we have got to be rational as on how we go about certain things. A billion dollars can go a long if injected into the economy and then we have an insensitive minister and government presiding over a billion dollars to be given to a university.
"It is totally unacceptable and as parliamentarians, we shall be moving this forward to really ask these ministers what they are doing in parliament.
"Surely, these are their own ideas with them trying to protect themselves and we shall not accept that and allow such insensitive decisions by cabinet to ruin this country," added an enraged Mliswa.