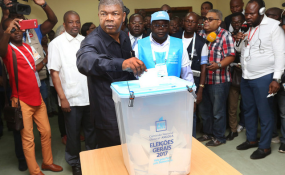 Photo: Pedro Parente
Luanda — The Angolan head of State, José Eduardo dos Santos, cast his ballot on Wednesday at Luanda?s polling station 1047, on the premises of the São José de Colony college, municipality of Ingombota.
The president was accompanied by his wife, Ana Paula dos Santos, who also voted at the same polling station.
9.3 million voters have registered for the 2017 election to vote for the president of the Republic, the vice president and a 220-member Parliament.
This is the country's fourth general election being contested by six political parties. They are the ruling MPLA and opposition UNITA, PRS, FNLA , APN and CASA-CE coalition.