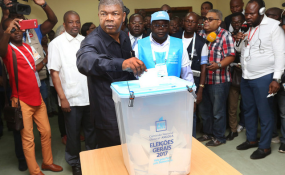 Photo: Pedro Parente
Luanda — The ruling MPLA party presidential candidate João Lourenço voted Wednesday at Luanda's Law Faculty of the Universidade Agostinho Neto.
João Lourenço arrived at the polling station 1160 accompanied by his wife.
Six political parties are contesting the 2017 general election. They are the ruling MPLA and opposition UNITA, PRS, FNLA, APN and CASA-CE) coalition.
In the 2012 general election, the ruling party got 175 MPs elected.
9.3 million voters have registered for the 2017 election to vote for the president of the Republic, the vice president and a 220-member Parliament.