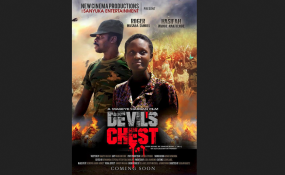 Photo: KonyMovie/Facebook
By Andrew Kaggwa
On Wednesday, Uganda Communications Commission announced nominees for this year's Uganda Film Festival (UFF) at their headquarters in Bugolobi.
Organized as a breakfast meeting, discussions preceding the announcement revolved around problems facing the film industry, including not having an audience, because of competition from Hollywood and TV stations.
The festival will kick off on August 28 with a workshop to teach filmmakers how to crowd-fund to finance their films, among other topics.
Soon the breakfast meet turned to the most important event on the agenda: the nominees for this year's award gala that will close the festival.
Set for September 1, the awards look set to be dominated by Joseph Kony-related stories that stacked up the most nominations.
The films Devil's Chest by Hassan Mageye and Kony, Order From Above both talk about the warlord's atrocities in northern Uganda.
The films go head-to-head for the biggest award of the night, Best Film, where there are other nominees including Daniel Mugerwa's Rain and Breaking With Custom by Ttabu Wasswa.
Yat Madit that was broadcast on NTV at the end of the year dominated all the TV categories of Best Actor, Actress and TV Drama with Michael Wawuyo and Rehema Nanfuka both getting nominations. They are closely followed by Honourables whose Sam Okello appears in the Best Actor category.
Urban TV's Coffee Shop last year stunned everyone by taking all the awards in the TV category, although this year, the show only manages a lone nomination in the Best Actress category.
Aaron Zziwa, whose film Break In is nominated in various categories, noted that the quality of the films getting nominations is improving, which is making it even harder to win awards at the festival.
Zziwa has previously won Best Editing with The Superstition and later Best Sound mixing with Wako. The film festival starts on August 28 and will host a number of keynote speeches, workshops and screenings across the country.