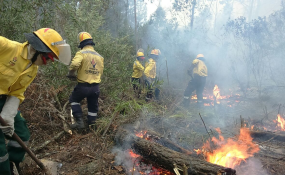 Photo: Working On Fire
analysis
In recent years, a spate of destructive fires in the Western Cape have led to claims that arsonists are at work in what could be a politically motivated campaign. Tuesday brought bad news for conspiracy theorists: an independent investigation into the Knysna fires commissioned by AfriForum revealed no trace of arson. Forensic expert Dr David Klatzow's conclusions do, however, put him at odds with the Knysna Fire Department. By REBECCA DAVIS.
"The first thought that goes through my mind is potential arson."
When South Africa's premier forensic expert Dr David Klatzow was commissioned by civil rights organisation AfriForum to investigate the causes of the Knysna fires, he says his initial suspicion was that arson would be involved.
Back in June, Klatzow said as much to journalists, suggesting that the existence of numerous fires happening simultaneously in the Knysna situation "raises a big flag" and pointed to "deliberate agency".
But Klatzow has now produced a 276-page report which comprehensively rules out arson as the origin of the Garden Route fires.
Klatzow's findings were announced at an AfriForum press conference on Tuesday, together with the screening of a documentary produced by the civil rights organisation titled "Knysna: From the Ashes". In the...