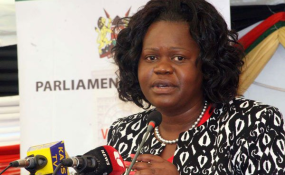 Photo: The Nation
By Samwel Owino
Even before they take the oath of office, MPs are plotting how to reject the new salary structure that substantially reduces their salaries and allowances and have the old figure retained.
The lawmakers through the Parliamentary Service Commission have accused the Salaries and Remuneration Commission of unfairly targeting them in its efforts to slash the public wage bill.
The move is likely to put them on a collision path with President Uhuru Kenyatta who has thrown his weight behind the salary reductions of state officers introduced by the SRC chaired by Ms Sarah Serem.
Homa Bay Woman Representative-elect Ms Gladys Wanga, who is a member of PSC, accused the salaries commission of embarking on a mission to drastically reduce MPs' pay and allowances without having carried out a job evaluation exercise as required by the Constitution.
Addressing a news conference at Parliament buildings on Wednesday, Ms Wanga said SRC wants to demean lawmakers, a move she said they would resoundingly reject.
BEGGARS
"There is a sustained campaign by SRC to reduce MPs to beggars and people who move from one office to another asking for handouts and this will not happen under our watch," Ms Wanga said.
National Assembly Speaker Justin Muturi, who is also the chairman of the PSC, said the views expressed by Ms Wanga were personal and do not represent those of the PSC.
"The commission does not operate that way, the views expressed by Ms Wanga were personal," Mr Muturi said on telephone. However, MPs who spoke to the Nation but wished to remain anonymous fearing public outrage said they would do all they can to nullify the new SRC structure.
Ms Serem did not respond to our calls and text messages by the time of publishing the story.
Eldas MP Adan Keynan, who is also a member of PSC, said the new salary structure does not make sense. "Whatever SRC has proposed does not make sense at all."
RAISE SALARIES
Kiambu Woman Representative Gathoni Wa Muchomba said SRC should slash or raise salaries the right way, adding "I want to be paid well. I want to be honoured for who I am."
MPs were hit the hardest by the salaries commission, which slashed the earnings of State officers, including that of the President, to save the country Sh8.8 billion annually.
The MPs could, however, find it difficult to reverse the commission's orders since the Constitution gives it the exclusive mandate to set and review the remuneration and benefits of all State officers, meaning that its decisions are not subject to review by any other institution. However, MPs may still have the power to annul the gazette notice and revert to their normal earning.
Under the new structure, gazetted on July 12, MPs' salaries have been fixed at Sh621,250 down from Sh710,000 and their plenary sitting allowances of Sh5,000 removed.
The salary of the highest-earning officers, the Speaker of both the National Assembly and the Senate, was also slashed to Sh1,155,000 from Sh1,320,000.
CAR GRANT
MPs also lost their car grant of Sh5 million and will instead be entitled to a Sh7 million car loan in addition to Sh20 million mortgage.
On Wednesday, Ms Wanga said: "It is unfair for SRC to deny us car grants without providing any alternatives."
Bondo MP Gideon Ochanda said the new salary structure will definitely be challenged by the continuing MPs "since it is legally incorrect to reduce someone's salary."
He, however, said for the new MPs the new salary was in order since it's an entry-level wage.
"For MPs who are going to start their first term, the structure is all right and they should accept it," he said.
Kajiado North MP Joseph Manje said he will look at the new structure before making a decision whether to reject it or not.
PAY CUTS
SRC explained that the pay cuts are part of a plan to reduce the public sector wage bill by 35 per cent and save the country Sh8.8 billion annually.
The current public sector wage bill stands at 52 per cent of the gross domestic product.
The legislators' transport allowances will also now be paid once a month based on rates fixed for the distances covered, which have been classified into five groups.
They range between Sh266,663 for a return journey of 750km and Sh738,833km for more than 1,500km.
Ms Wanga said that MPs are not clamouring for more pay and are only pushing for the retention of the old pay.
Nyali MP-elect Mohamed Ali yesterday said he is not keen on a salary increment, writing on his Facebook page: "I, Mohamed Ali Mohamed, do not support any move to increase my salary and that of my fellow elected MPs."