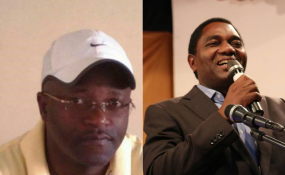 Photo: allafrica.com
By Bwembya Mutale
FAZ president Andrew Kamanga is set to sack Chipolopolo team doctor George Magwende on grounds non related to football, but national politics.
According to sources consulting Zambia Reports, Dr. Magwende was allegedly seen talking to opposition United Party for National Development (UPND) president Hakainde Hichilema at Mukobeko Maximum Prison.
Hichilema was on August 16 discharged from prison after serving four months on treason related charges which are non-bailable.
The source states that the meeting between Dr. Magwende and Hichilema led to the Patriotic Front government to retire the former from the Zambia Prisons service in national interest.
The sources have concluded that Dr Magwende, who was deputy Zambia Correction Service Commissioner General of the Zambia Prisons, was accused of being allegedly sympathetic to Hichilema during incarceration. Hichilema spent part of his four months in jail at Mukobeko Maximum Prison where the headquarters of the prisons service led by Comissioner General Percy Chato is based.
Multiple sources have since told Zambia Reports that sports minister Moses Mawere has extended Dr Magwende's 'punishment' to FAZ.
"In one of the meetings, the minister asked the [FAZ] president what Dr Magwende was still doing at the national team. The president did not say anything but now instructions have been given that the doctor should be relieved and the search for his replacement is in full gear," one person not authorised to comment said.
But when contacted, FAZ president Kamanga has denied issuing those instructions to sack Dr Magwende.
"I am not aware of this matter. Grateful if you could avail me copy of the said instruction," he said in a press query.
Dr. Magwende is also the Head of the FAZ medical sub-committe. Dr. Magwende's next assignment under the leadership of Wedson Nyirenda is against Algeria at Heroes Stadium in Lusaka next week.