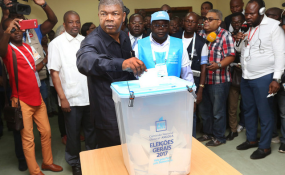 Photo: Pedro Parente
Luanda — The Audit Court Chief Judge, Julião António, last Wednesday in Luanda deemed the country's 23 August elections a true feast of democracy, having also called on citizens to vote in free conscience.
Speaking to the press, after casting his ballot in Ingombota district, Julião António also deemed the voting process a true exercise of citizenship right.
"The sovereignty of a country rests on the people. There is no doubt that the people need to choose their leaders", said the source, to further appeal to voters to flock to the voting stations and the cast the ballot.
This election has six contestants, namely the parties MPLA, UNITA, PRS, FNLA, APN and the CASA-CE coalition.
Roughly 9.3 million citizens were registered to vote.