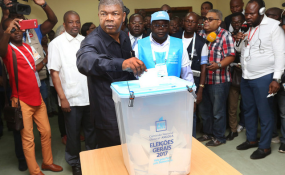 Photo: Pedro Parente
Luanda — The Head of the Constitutional Court, Rui Ferreira, on Wednesday in Luanda appealed to the contestants in this 23 August general elections to be capable to accept the electoral results, thus respecting the will of the people.
The chief judge of the Constitutional Court made such appeal when speaking briefly to the press after casting his vote in Samba district, having underscored the idea that those who lose must respect the result and the winning side.
He said the process is well organised, efficient and happening in a climate absolute tranquillity and liberty, which shows the world that Angolans have gained democratic maturity.
Rui Ferreira also assured that the Constitutional Court, in the ambit of this process, is ready to respond to any legal appeal or complaint that might be filed by the contestants in this election.