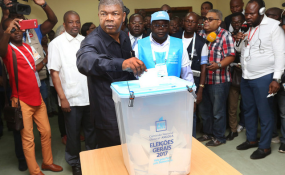 Photo: Pedro Parente
Luanda — The Vice President of the Republic, Manuel Domingos Vicente, Wednesday in Luanda, appealed to citizens to flock to polling stations to exercise their right to citizenship, to consolidate democracy in the country.
The official, who voted in the Polling Station number 1035, in the urban district of Ingombota, municipality of Luanda, said it was necessary for the population to follow his example so that the festival would be for everyone.
"All this is a step towards consolidating our democracy, we will encourage everyone to vote and I am convinced that everything will end well," he said, after casting his ballot and wet his finger with the indelible ink.
Manuel Domingos Vicente (born May 15, 1956 in Luanda), ran for the 2012 general elections as number two on the MPLA list, and took office as Vice President of the Republic on September 26, 2012.