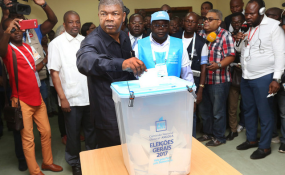 Photo: Pedro Parente
Luanda — PRS president Benedito Daniel was the first candidate for President to exercise his right to vote in assembly number 5009, table two, in the Grafanil district, Viana municipality.
With the voter's card number 39837, Benedito Daniel, who cast at 7:59 minutes his vote only 100 meters from his residence, told the press that he was happy because "it is a moment that reflects the normalization of the democratic process of the country".
He said that democracy is being deepened and believes that any day can be consolidated. "With these elections we intend to restore dignity to the population that has suffered a great deal over the years and, to this end, they must vote to make changes happen in the coming times," he said.