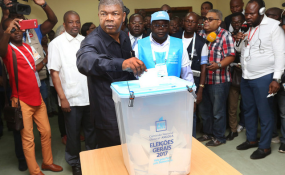 Photo: Pedro Parente
Luanda — The speaker of the National Assembly (AN), Fernando da Piedade Dias dos Santos, Wednesday in Luanda called on all Angolans to vote in conscience and with responsibility.
In brief statements to the press, after exercising his right to citizenship, at polling station number 1030, in the urban district of Ingombota, he expressed his satisfaction at having voted in the fourth general elections.
The legislator appealed to all constituent citizens to go to the polling stations with discipline, serenity and brotherhood, to choose those who will run the country in the next five years.
The same polling station received this morning several other personalities, such as the former president of the National Electoral Commission (CNE), Caetano de Sousa, who after voting praised the organization of the polling stations and the speed of the process.
According to Caetano de Sousa, this is a right of all citizens, and he called on all to vote.