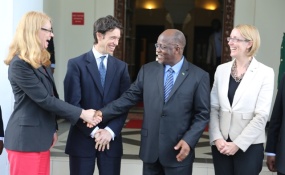 Photo: State House
AS part of its continued support to Tanzania, the UK government has pledged US 450 million dollars (about 1.026trl/-) support, to improve roads and port infrastructure, education and industrialisation.
According to a statement issued by the Directorate of Presidential Communications, the announcement to that end was made by the United Kingdom's Minister of State at the Department for International Development, responsible for Africa affairs at the Foreign and Commonwealth Office, Mr Rory Stewart.
The visiting minister announced the funding after meeting with President John Magufuli at the State House in Dar es Salaam yesterday.
Mr Stewart said the aid would be channeled into projects for improving the quality of education and enrolment of pupils, as well as strengthening road and port infrastructure.
In addition, the funding would help boost commercial farming and improve meat and cotton processing factories. Speaking at the occasion, Mr Stewart praised President Magufuli for his staunch moves to curb corruption and opening up access to education for many young Tanzanians.
"I visited one school in Dar es Salaam yesterday (Tuesday) and I was impressed how the free education policy in Tanzania has played a significant role in increasing enrolment of pupils.
"During the visit I had an opportunity to speak to parents and teachers; enrolment of pupils has increased two times within a short period and has brought major reforms; education is everything," Mr Stewart remarked.
1.026trl/- a big booster
He pledged his country's continued support for cementing bilateral relations, expressing optimism that the just announced aid would improve the welfare of Tanzanians.
Dr Magufuli was also impressed and thanked the minister for visiting Tanzania, requesting him to send his regards to Her Majesty Queen Elizabeth II and Prime Minister Theresa May, for the support the UK had been extending to the country for development projects.
Apart from aid to support development endeavours, the United Kingdom remains the leading country with investments in Tanzania, a fact that Dr Magufuli acknowledged during the meeting with Mr Stewart.
The Head of State explained that the anti-corruption drive was yielding positive results, stressing that the funding from the UK would be put to its intended use.
"It is the responsibility of every Tanzanian to support the government's efforts to curb corruption and this will enable our country move forward. Corruption is a deadly vice. "In addition, we must nurture a culture of paying taxes for our development rather that depending on our development partners," Dr Magufuli stressed.
The meeting at the State House was also attended by the United Kingdom High Commissioner to Tanzania, Ms Sarah Cooke, Foreign Affairs and East African Co-operation Minister, Dr Augustine Mahiga and his counterpart in the Finance and Planning docket, Dr Philip Mpango.
Also in attendance was Permanent Secretary in the Ministry of Finance and Planning, Dr Doto James.