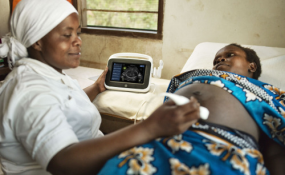 Photo: GE
By Angela Oketch
Public hospitals in Kisumu have turned to private attendants to help expectant women deliver as the nurses' strike shows no signs of ending.
Many women have given birth at home while some have developed complications in the 76 days of the strike.
Public hospitals remain closed. The nurses began their strike on June 5 to protest failure by the government to implement a pay deal.
Last week, a Kisumu woman died of birth-related complications.
MATERNITY
Jaramogi Oginga Odinga Teaching and Referral Hospital management is not turning the women away.
"The maternity ward is open. There are in-house arrangements that ensure our nurses work in shifts," hospital chief executive Juliana Otieno said.
"No woman should lose her child or pregnancy when the situation can be avoided."
Dr Otieno said all the services needed by expectant women were available.
"We are also vaccinating and immunising children," she said.
NOT SUFFER
County Chief Health Officer Ojwang Lusi said pregnant women were being given priority at Migosi Health Centre.
The hospital opens in the morning and closes at 1 pm.
"Women will not suffer as long as we can provide the services needed," Dr Lusi said.
He added that nurses had a right to strike but expectant women also had a right to be attended to.
WAITING
Kenya National Union of Nurses Secretary-General Morris Opetu said the organisation was waiting to see how the stalemate would be addressed.
"We gave them (county and national governments) time to settle everything. Now we are giving them space," Mr Opetu said Wednesday.
The unionist added that he hoped talks between concerned parties would go on well "for the good of Kenyans".
According to the draft salary deal, every nurse should be given a monthly allowance amounting to Sh25,400.
The nurses want Sh15,400 as health risk allowance, a Sh5,000 extraneous allowance and a Sh5,000 responsibility allowance.
The 25,000 nurses on strike are also pushing for an annual uniform allowance of Sh50,000.