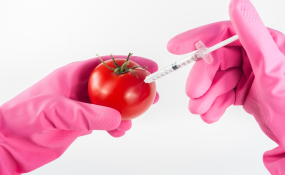 Photo: Pixabay
A UZ professor, Christopher Chetsanga, has rubbished claims that genetically modified organisms (GMOs) are dangerous to humanity, describing the assertion as an outright lie.
The comment flies in the face of government which has been defending its policy which prohibits GMOs.
Chetsanga was giving a key note speech at a training workshop on industrial biotechnology in Harare this week.
He said it was sad that most African countries were still lagging behind in enjoying the prosperity associated with effective use of biotechnologies particularly through GMOs in agriculture and industry.
"Biotechnology has offered a number of medical assistance which include molecular diagnosis of diseases, genetically engineered insulin for diabetes which is now produced in large quantities and costing much lower prices," he said.
Chetsanga added, "Then there is the human growth hormone developed in biotechnology for proper growth of children, then also vaccines for hepatitis B virus. Unfortunately, there are continuing false rumours about GMOs being health hazards to humans. In fact this is really unfounded.
"There is no evidence in support of it. I worked extensively with GMOs when I was a professor in the US (United States). That country has developed numerous GMO products and its people have consumed GMOs for almost 20 years now. There has not been any report of people being harmed by these."
He said biosafety regulations observed in the US biotechnology research and production industries have ensured the products are safe for humans and the environment.
Chetsanga lamented restrictive policies which he said had slowed down the development of biotechnology industry in Africa including in Zimbabwe.
Higher Education deputy minister Godfrey Gandawa, however, could not resist warning Chetsanga against criticising government policy.
The deputy minister, while boasting of his ministry being led by intellectually astute politicians, accused Chetsanga of being confrontational with government further urging researchers to be persuasive if they intend to influence policy changes.
"I didn't want to comment but I have been forced. The policy in Zimbabwe is we are anti GMOs. If you want us to implement controversial policies or to accept certain research there is a better way of putting it to us. You have empirical evidence to prove which sometimes is not what the politician sees," Gandawa said.
"Instead of pushing GMOs in food, I would encourage you to push for GMO medical biotechnologies because we already consume GMOs in medicine, insulin and so on. If you do this you will get us accepting these policies.
But if you start exactly where our policy says no, it will look like you are being confrontational."
Government is still adamant towards adoption of biotechnology cotton which has become a boost for textile industry in other countries.
However Zimbabwe is already a consumer of such products as the market is predominantly relying on imports because of production inefficiencies.