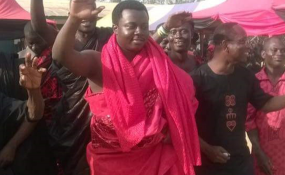 Photo: Supplied
By Maxwell Ofori
The Member of Parliament (MP) for Assin South Constituency, Rev. John Ntim Fordjour, has urged his colleagues to remain resolute in defending the constitution, and resist strongly any pressure on the country to decriminalise homosexuality.
He has also asked the country and the legislature to stand steadfast and uphold Godly legislation. Addressing a press conference in Accra yesterday, the MP indicated that homosexuality, lesbianism, and bestiality are deemed abominable, and proscribed from the biblical perspective.
"Without prejudice to the position of the Parliament of Ghana, the Government of Ghana, any religious body nor any political party on the subject of homosexuality, lesbianism and bestiality, the following views are being espoused as my personal position on the subject, premised on my deepest convictions and principles as a Christian, a Reverend Minister, a proud advocate of Jesus Christ, and Legislator," he said.
He observed that in the constitutional framework of Ghana, not only were the practices of homosexuality, lesbianism and bestiality unedifying, but they were also fundamentally unlawful.
According to him, whereas it was an undeniable fact that we live in a world that keeps evolving, it was of utmost importance that, as a people, we do everything possible to safeguard morals and values that define our identity.
To him, the fact that the other countries recognised immortality as an acceptable standard does not mean same thing should happen in Ghana. Globalisation, he added, was purposed to augment the strengths and values of nation-states, but, certainly not meant to compromise the cultural and moral values therein.
He quoted some passages in the bible which speak against such acts, whilst stressing the need for the country to resist any oppressor's rule.
"I hearby openly and unequivocally declare my firm position against the views of the members of an advocacy group, who, on Thursday, August 17 2017, sought to canvas support from certain powerful persons and institutions in Canada to put pressure on Ghana to decriminalise homosexuality.
"In furtherance of their demonic agenda, it is alleged that a group of eighht men had embarked on soliciting signatures, ostensibly, to mount pressure on Ghana to decriminalise homosexuality.
" It is worth stating that the Constitution of Ghana makes adequate provisions which debar homosexuality, lesbianism, bestiality and such acts that defile the core tenets of our beliefs, values, customs and traditions as a people," he said.
The Speaker of Parliament, Prof Aaron Michael Oquaye, a few weeks ago, openly and strongly spoke against the same demands from advocacy groups.
At a meeting with Amnesty International at his conference room, the Speaker warned that leaders in Ghana would not concede to the insistent calls by external forces that Ghana should accept acts like what the MP was talking about.