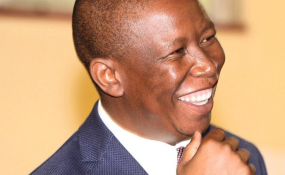 Photo: Economic Freedom Fighters
EFF leader Julius Malema and his Zambian counterpart Saviour Chishimba have reportedly been banned from attending an inaugural international conference against graft in Malawi.
According to Malawi24, Malawi's Minister of Internal Affairs, Grace Chiumia, told the South African Airways and the immigration department that the two leaders were "prohibited immigrants" in that country.
Malema, together with Chisamba, were set to take part at a conference organised by the southern African country's former minister Moses Kumkuyu under the auspices of Transformation Alliance.
Transformation Alliance was founded to fight against corruption and hold leaders to account.
This was to be their first international conference. However, in a statement, EFF spokesperson Mbuyiseni Ndlozi has urged Malawian authorities to "unban" Malema, saying the firebrand leader's ban was based on wrong information.
'Misleading remarks'
Ndlozi has since denounced Chishimba, saying that he did not invite Malema.
"We condemn the dishonest and misleading remarks by Mr Saviour Chishimba who has created an impression that he will be hosting the leader of the EFF in Malawi. We would like to put it categorically that there was never a plan by the CIC Julius Malema to visit Malawi on the invitation of anyone, let alone Mr Chishimba," said Ndlozi.
Ndlozi added that "there has never been any communication between Chishimba and the EFF or its president about any such visit or the political conditions in Malawi".
This comes a week after Malema and Democratic Alliance leader Mmusi Maimane snubbed an invitation by Zambian president Edgar Lungu.
The Zambian High Commission in Pretoria said Lungu "summoned" the leaders of the two parties for a meeting after they made "remarks against Zambia".
In a statement, the commission said Lungu had "expressed concern that the two opposition parties appeared to disrespect the sovereignty of Zambia and had interfered in the domestic affairs of countries such as Zambia, Swaziland, Lesotho and Zimbabwe".
According to the report, the opposition parties spoke out about the detention and trial of opposition leader Hakainde Hichilema, who was jailed in April on treason charges after being accused of failing to make way for Lungu's motorcade. Charges against Hichilema were dropped last week after apparent outside pressure, and he was released.
The EFF said that Malema "will not meet Lungu on a summon. Neither will he meet him on short notice".
Source: News24