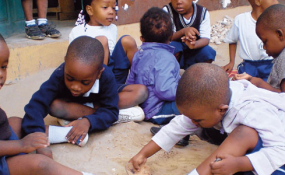 Photo: The Citizen
By Beatrice Moses
Dar es Salaam — The Dar es Salaam Regional Education Officer, Mr Hamis Lissu yesterday disclosed that they have closed 130 English medium "centres", which were not operating according to the law.
Speaking yesterday to The Citizen, Mr Lissu said their decision helped uncover several issues, including most of them lacking quality.
Mr Lissu revealed that some owners of the English medium centres were operating in buildings that used to be notorious guest houses.
"There are procedures to follow in registering a school, which include one owning an area of not less than three and a half acres. But now there are those who run schools in their own premises and others in business-intended-stalls and unfriendly infrastructures that endanger the lives of children studying there," he said.
Mr Lissu added that the centres were also cheating as most of them were not registered, causing inconveniences to both parents and students.
He said the centres were cheating by taking in students required to sit for national exams, but instead asked registered schools to save their face.
"This is very bad because there are all signs that some students, particularly those in Standard Seven, may not sit their exams when these centres have issues with the registered schools.
"I have told them that this kind of situation has been occurring every year here in Dar es Salaam. It is true some centres have been operating for 10 years and claiming to be registered schools while others have been presenting fake registration numbers," he said.
"Now I have directed that all students studying at these centres to be moved to the registered schools. The exercise is still going on and expect more centres to be closed," Mr Lissu.
For her part, the Ilala Education Officer, Ms Elizabeth Thomas, said the exercise of inspecting and identifying the centres had been a major challenge to them.
Ms Thomas explained that some operators of the centres against the inspection and opted to erase markings or words written on their centres' walls to show that they do not operate.