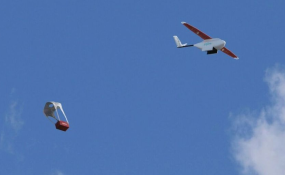 Photo: Zipline
By Syriacus Buguzi
Dar es Salaam — Over 1000 health facilities in ten regions are expected to benefit from a project to deliver medical supplies through using drones, as the government signs agreement with Zipline company.
Medical Stores Department Executive Director, LaureanMwanakunu told reporters in Dar es Salaam on Thursday that the unmanned aircrafts project is expected to be scaled up in ten regions across the country to deliver blood products, vaccines and medical supplies in areas that are remote, hard to reach.
Following the signing of the agreement, it means that the government in collaboration with Ifakara Health Institute (IHI) will soon embark on evaluating the effectiveness of the drones beginning in two regions-Dodoma and Mwanza.
"If we get positive results, this will give us courage to scale up the services across the country," said Mr Bwanakunu.
The project is expected to fully kickoff in 2018.
"Drones can bridge the gap in delivery of services in areas that key health services have been difficult to be accessed," said Dr MpokiUlisubisya, Permanent Secretary in the Health Ministry.