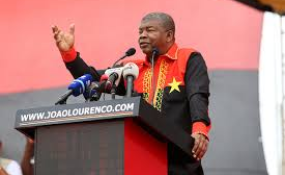 Photo: Pedro Parente/ANGOP
By Arnaldo Vieira in Luanda
Angolan ruling party MPLA has won the Wednesday General Election with 64.57 per cent vote, according to the provisional results.
The results released by the National Electoral Commission (CNE), also indicated that the main opposition Unita, was a distant second with 24.4 per cent of the votes cast.
The the Board of Convergence for Angolan Salvation- Electoral Coalition (Casa-Ce) came in third with 8.56, with the rest of the contending parties garnering less than 1 per cent each.
Polling stations
The provisional results indicated a 63.73 per cent voter turnout, with 95.1 per cent valid votes.
Some 9,317,294 voters had been registered to cast their ballots at 12,152 polling stations in a contest that was widely expected to be won by the ruling party.
Incumbent President Jose Eduardo dos Santos did not contest the poll and is expected to be succeeded by the MPLA flagbearer, Mr João Lourenço.
Angola's new president is expected to be sworn-in on September 21, marking the end of President Dos Santos's 38-year reign.
Since independence
CNE has up to September 6, to announce the final tally.
MPLA has dominated the Angolan politics since independence from the Portuguese in 1975.
It won the elections in 1992, 2008 and 2012, with a parliamentary majority.
In 2012, MPLA secured 74 per cent of the vote against Unita's 18 per cent.