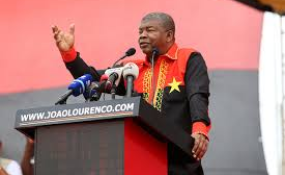 Photo: Pedro Parente/ANGOP
Luanda — The MPLA secretary for Political and Electoral Affairs, João Martins, said on Thursday in Luanda that his party has now secured a qualified majority resulting from the general elections held on Wednesday.
Speaking to the press, he said that at a time when more than five million voters were being screened, out of more than nine million voters, the MPLA can ensure that it has a qualified majority.
João Matins maintained that the figures are derived from the data obtained by the delegates of lists, throughout the country, and sent to summary records for the "general staff" of the campaign, in Luanda.
"It is with certainty that we can assure that the future President of the Republic will be the candidate João Manuel Gonçalves Lourenço and the vice president the candidate Bornito de Sousa Baltazar Diogo," he declared.
However, he reassured the militants and all those who bet on the MPLA project and its candidate, until the final results are released by the National Electoral Commission (CNE).