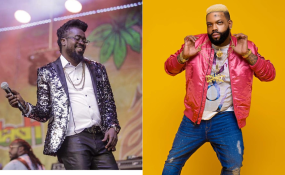 Photo: allafrica.com
By Tawanda Marwizi
Harare has become the fighting ground as two Jamaican musicians Beenie Man and Demarco are set to perform in the capital tonight.
Beenie Man will be performing at Alexandra Sports Club while Demarco will be performing at Longcheng Plaza.
Youth are spoilt for a choice as the two musicians have already promised fireworks at the shows.
Demarco has toured several African countries with his recent visit being a show in Uganda.
He will be supported by several musicians that include Soul Jah Love, Cindy, Ex Q, Kinna, Guspy Warrior, Don Dada, Freeman, Boom Berto among others.
The musician according to the show organisers will arrive in the country today.
Templeman who is the spokesperson of the event said the response was overwhelming and they sold a reasonable number of advanced tickets.
"The response is overwhelming and as of now we have sold a reasonable number of tickets," he said.
He said fans will be in for a treat as the line up has the best entertainers in the country," he said.
Demarco is known for playing songs such as "Money Money Money", "Take Yu Time", "I love my Life"and"Standing soldier" among other songs.
He has performed at different platforms in several countries.
"He has already promised fireworks on the day of the show. As it stands we are going to have a good night," he said.
That will be a good chance for local musicians to prove their mettle.
Freeman has a new album and some of the songs are fast gaining ground.
The musician is expected to convince the crowds that his songs are good and worth to listen.
Boom Berto has been described as a one hit wonder by pundits after he failed to maintain the momentum he raised with song "Kudonhedza Musika" is expected to perform at the event.