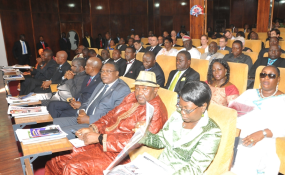 Photo: Liberia Government
By Omari Jackson
A joint committee of the House of Representatives, comprising Elections & Inauguration and the Judiciary is reviewing a new election law to amend certain provisions of the elections law to clarify the powers and authority of the National Elections Commission with respect to the qualification of political parties and organizations for elections, determining election results and election disputes.'
The Joint Committee is expected to report and advise the House's Plenary next Tuesday, August 29, as to whether the august body should concur with the Liberian Senate.
The House mandated its Joint Committee last Tuesday following the forwarding of the approved bill from the Liberian Senate, subtitled Engrossed Bill No. 12.
According to the act, when approved by the House of Representatives, the National Elections Commission (NEC) will be the sole determinant of the qualification of political parties and political organizations and independent candidates for elections and the sole determinant of election results and election disputes, "except that the right of appeal is reserved to an interested party aggrieved by a decision of the National Elections Commission to appeal to the Supreme Court for review."
The bill will further allow at least five days filing a complaint with the NEC, while a period of 15 days is provided for the NEC to review its decision after a petition has been filed. The draft bill also provides for "30 days to file an appeal within which a decision will be made by the Supreme Court on all appeals to it; otherwise, the decision of the NEC shall be final, binding, and legally enforceable."
The chapters to be amended include Chapter 2, Section 2.9, (n) and (t); Chapter 4, Section 4.14 and 4.15; Chapter 6, Section 6.9; and Chapter 9, Section 9.1 of the Elections Law.
Meanwhile, the amended new law provides that "appeals to the Supreme Court shall not serve as a stay of decisions of the National Elections Commission, but that the NEC's decisions shall be enforced pending the results of appeals from the Supreme Court."
It may be recalled that in a brief engagement with Senate reporters, Senator Varney Sherman, whose Judiciary committee helped to redraft the bill, said the amended law was necessary to avert future recurrence of the 2014 Special Senatorial Election episode, when five Senators suffered several months of delay in being sworn in, after their aggrieved opponents took their complaints to the Supreme Court.
The Senators who were affected by that episode were Gbleh-bo Brown of Maryland County; Morris Saytumah of Bomi County; Jim Tornolah of Margibi County; and Conmany Wesseh of River Gee County, including Senator Varney Sherman (Grand Cape Mount County).