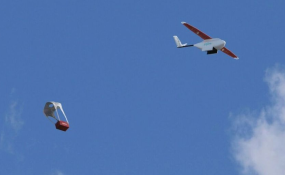 Photo: Zipline
By Syriacus Buguzi
Dar es Salaam — When the government announced on Thursday that it was embarking on the use of drones to deliver medical supplies to remote areas, sad memories were evoked of how the authorities have endured risky and long journeys to ensure people of accessed the key health services.
That was after the government inked an agreement with a US-based drones company, Zipline, to implement the project that would see over 1,000 health facilities in 10 regions receiving life-saving blood and medical supplies more efficiently and quicker through unmanned air facilities.
Soon after signing the agreement in Dar es Salaam, Medical Stores Department's Communications director Etty Kusiluka spoke of how drones are set to be a game-changer in delivering medical supplies efficiently and thus saving lives.
She recalled a scenario last year when a team of MSD officials went on a journey to deliver medical supplies to Keichuru Village, Rufiji District in Coast Region but spent over 12-hours to arrive and the boat they were travelling in almost sank in the Rufiji Delta. The distance to the place from Dar es Salaam is less than 200 kilometres.
"These are long and treacherous journeys that hinder the possibility of delivering life-saving supplies on time. Such challenges mean that certain lives can't be saved when it's urgent," she told health reporters and stakeholders.
The signing ceremony which took place in Dar es Salaam involved the exchange of documents between Zipline chief executive officer Keller Rinaudo and the permanent secretary of the Ministry of Health, Community Development, Gender, Elderly and Children, Dr Mpoki Ulisumbisya.
Mr Rinaudo said his company would expand drone services in Tanzania to include on-demand delivery of emergency vaccines, HIV medications, and anti-malaria drugs. The company designs drones, called Zips that can fly up to 150 kilometres per charge and carry up to 1.5 kilos of blood.
The project, funded by the UK's Department for International Development (DfID) and Bill&Melinda Gates Foundation seeks to speedily deliver blood to rural health facilities to prevent women from dying of blood loss during delivery. It is locally coordinated by the Ifakara Health Institute (IHI).
Mr Rinaudo said the cost of the entire project is yet to be ascertained. He, however, told The Citizen that the cost of running drones will be the same as that of delivering medical supplies by road. "But this is 20 times faster than road and saves time and lives," he said. He added that the delivery of all of emergency products was the "real goal. It's been a problem for over a hundred years, but it's a problem that global health experts have been trying to solve for the past 50 years."
However, after signing the agreement, the government spelled out its expectations of how Zipline would now have to work with the local stakeholders in order to make the project sustainable and be of benefit to all Tanzanians.
Dr Ulisumbisya said that the government was now banking on drones to ensure all people across the country access the health services they need and on time, but he noted, "The project should work in line with Tanzania's industrialisation drive."
He asked the Zipline CEO to work with the MSD in ensuring that the drone technology was home-grown.
"It should not be a case of Zipline making the drones in the US and later shipping them to Tanzania. It should reach a point where they are made here, in collaboration with local experts," he said.
Zipline first launched its services in Rwanda in 2016, calling it the world's first national drone delivery service. The company has raised more than $35 million in venture capital funding to date.
Dr Ulisumbisya said he was aware the project has worked well in Rwanda but warned, "It should not be expected to work the same way here in Tanzania. This country is vast and for the project to work well, it should not be a copy paste of Rwanda.
Speaking at the signing ceremony, MSD director Laurean Bwanakunu told reporters that the unmanned facilities project is expected to fully take off in 2018, after researchers have ascertained the effectiveness of the drones.
Following the signing of the agreement, it means that the government in collaboration with IHI will soon embark on evaluating the effectiveness of the drones beginning in two regions-Dodoma and Mwanza.
"If we get positive results, this will give us courage to scale up the services across the country,"said Mr Bwanakunu.