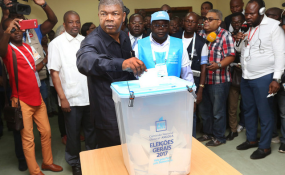 Photo: Pedro Parente
Luanda — The general elections held on 23 August in Angola were described Thursday as being free and fair.
The recognition is contained in statement released by the Observation Mission of the International Commission of the Great Lakes Region (ICGLR), led by Ugandan Mustapha Sebaggala Kigozi.
According to Mustapha Sebaggala Kigozi, the elections met the requirements on the elections held by the member States of Great Lakes Region.
He underlined that the process took place in a climate of peace, adding that the people exercised their right to vote in conditions of freedom and equality.
Taking into account to this result, he said, the mission welcomed the Angolan people for maintaining peace, urging them to keep this climate going until the release of the results.
The official announced that the Mission will submit a full report on the elections at subsequent date through the Ministry of Foreign Affairs of Member States.
He also said that ICGLR countries will be informed through the Heads of State and Government.
Created in 1994, ICGLR comprises Angola, Burundi, Central African Republic (CAR), Republic of Congo, Democratic Republic of Congo (DRC), Kenya, Uganda, Rwanda, Sudan, South Sudan, Tanzania and Zambia.
Six party stood for 2017 elections on August 23.
They are MPLA, UNITA, CASA-CE, PRS, FNLA and APN.
In 2012 elections, the ruling MPLA party gain 175 seats at Parliament (71.84 percent) followed by UNITA with 32 seats (18.66 %), CASA-CE eight (6.00 %), PRS three (1.70 %) and FNLA two (1.13 %).