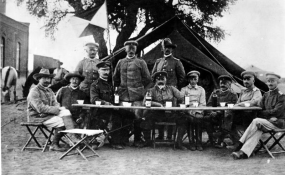 Photo: Wikipedia
By Sakeus Iikela
Swanu parliamentarian Usutuaije Maamberua said the national land conference scheduled for next month must devise policies to make the former colonisers pay for the lost land in the country.
He said this during the launch of the party's position paper on land that will be presented at the conference.
According to him, the national conference must resolve that Germany, South Africa, Britain and Portugal be requested to contribute to a fund which will be used to help address the skewed land ownership fermented by their colonial and imperial exploits in Namibia.
The party's position paper on land said the national conference must also come up with policies which will bring about equity in the ownership of land in the central business districts of towns and cities in Namibia.
Also in the paper is the proposed establishment of a judicial commission of inquiry on land acquisition and allocation, which "will provide the second national land conference with valuable data on the illegal confiscation and expropriation of land by the colonisers.
"The purpose of the commission of inquiry on land allocations and acquisitions is to provide proof that land was illegally confiscated and expropriated by the Germans from Namibians, and then alienated to the white settlers," said Maamberua.
The party's document stated that the proposed commission would review article 16 of the Namibian Constitution which guarantees that all persons have the right to acquire, own and dispose of all forms of property in any part of Namibia.
"It will also establish the legality of private ownership or lack thereof, which in conformity with article 16 of the constitution must be protected, and to remit land back to the state by article 100, respectively, if it is illegally owned," reads the document.
Maamberua further said the report from the proposed commission of inquiry would provide information on land dispossession "so that envisaged beneficiaries of our resettlement programme are those who lost land, and not derived from the blanket approach of the government".
The party also proposed a regional development trust, and a parliamentary standing committee which would be tasked with tracking progress made with regards to the implementation of the resolutions to be agreed upon at the national land conference.