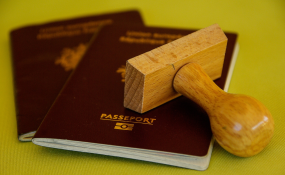 Photo: Pixababy
"For now, however, crossing borders remains a painful experience for most Africans. ... On average, Africans need a visa to travel to 54% of the continent's countries; it's easier for Americans to travel around Africa than it is for Africans themselves. So far, the AU has issued its single African passport only to heads of state and senior AU officials." - The Economist
The African Union's "Agenda 2063" laid out the far-reaching goal of free movement of persons in a continent "with seamless borders," and set the more immediate target of 2018 for "the abolishment of visa requirements for all African citizens in all African countries."
Even the more limited goal is far from being achieved by next year. But the second of a new series of reports from the African Development Bank and the African Union measuring progress on the goal is now out, and finding that there is some initial progress in easing national restrictions, with Ghana and Senegal taking the lead in opening up their borders to visitors from more African countries. And momentum is growing for other countries to recognize the economic advantages of such policy changes, and extend the range of more open policies now being pursued within regional organizations in West Africa and East Africa.
A new High Level Panel on Migration in Africa (HLPM) began work with its inaugural meeting in June, a protocol for free movement of persons is to be drafted for approval next year by the African Union, and civil society organizations in West Africa have launched a campaign (http://tinyurl.com/yatj3seo). A new website (http://www.visaopenness.org) presents the reports with country scores allowing African citizens to check the ranking of countries, and details for each country.
This AfricaFocus Bulletin contains excerpts from the Visa Openness Report, including a graph of ratings of visa openness by country.
For previous AfricaFocus Bulletins on migration and related issues, visit http://www.africafocus.org/migrexp.php
Visa-free travel in Africa remains far off
14 June 2017
http://www.visaopenness.org - Direct URL: http://tinyurl.com/yb5eukjs
Note: This article first appeared in the Economist
By 2063, according to the African Union's (AU) rather long-range prediction, Africa will be "a continent of seamless borders". People, capital, goods and services will flow freely from South Africa to Tunisia and from Senegal to Somalia. Europe's frontier-free Schengen area may be creaking under the strain of migration and terror, but another will arise, this one encompassing a continent of more than 1.2bn people. Last year, with that goal in mind, the AU boldly introduced a single African passport. The first recipients were two of the continent's most powerful strongmen: Rwanda's president, Paul Kagame, and Chad's president, Idriss Déby.
For now, however, crossing borders remains a painful experience for most Africans. The World Bank estimates that intra-African trade is more expensive, all things considered, than trade in any other region. According to Anabel Gonzalez, senior director of a World Bank group on trade and competitiveness, one African supermarket chain reports that it spends $20,000 every week to get import permits for meat, milk and other goods in one country alone; every day one of its lorries is held up at a border costs it $500. On average, Africans need a visa to travel to 54% of the continent's countries; it's easier for Americans to travel around Africa than it is for Africans themselves. So far, the AU has issued its single African passport only to heads of state and senior AU officials.
But in the past year things have improved a little, according to a new report from the African Development Bank. Africans now need visas to travel to slightly fewer countries than they did in 2015, and 13 African countries now offer electronic visas, up from 9 the previous year. Ghana made the most progress: in 2016 the government announced that it would provide visas on arrival for citizens of every AU member state, while offering entirely visa-free travel to 17 African countries, including the 14 other members of the Economic Community of West African States (ECOWAS). The Seychelles is still the only country on the continent to offer visa-free access to all Africans. (An archipelago in the middle of the Indian Ocean, it is a haven for well-heeled tourists but hard to get to if you are poor.)
Elsewhere, progress has been patchy. Less than a quarter of African countries provide "liberal access"—meaning visa-free travel or at least visas on arrival—to all African citizens, and most of the continent's richest countries tend to be more restrictive. War-torn central Africa remains the most closed region; east and west Africa have opened up the most.
Africa Visa Openness Report 2017
African Development Bank
[Excerpts only: full report available at https://www.visaopenness.org/]
"We are trying to drive a continental visa policy reform programme for all of Africa. We want to remove many of the challenges and procedures facing many people when they travel. We want to make sure there is reciprocity on visa issuance across countries and we want to promote talent mobility all across Africa." - Akinwumi Adesina, President, African Development Bank Group
African Union's Agenda 2063
Aspiration 2 - An Integrated Continent, Politically United Based on the Ideals of Pan Africanism and the Vision of Africa's Renaissance
21. We aspire that by 2063, Africa will: * Be a United Africa * Have world class, integrative infrastructure that criss-crosses the continent; * Have dynamic and mutually beneficial links with her Diaspora; and * Be a continent with seamless borders, and management of cross border resources through dialogue.
24. Africa shall be a continent where the free movement of people, capital, goods and services will result in significant increases in trade and investments amongst African countries rising to unprecedented levels, and strengthen Africa's place in global trade.
A Call to Action
72. We hereby adopt Agenda 2063, as a collective vision and roadmap for the next fifty years and therefore commit to speed-up actions to:
k. Introduce an African Passport, issued by Member states, capitalising on the global migration towards e-passports, and with the abolishment of visa requirements for all African citizens in all African countries by 2018.
Foreword, African Union Commission
By the end of 2016, Africa had advanced moderately towards greater freedom of movement for its people. The goal of an integrated Africa as envisaged in Agenda 2063 is slowly getting into sharper focus. The collective African Union decision for Member States to grant a 30-day visa-on-arrival to all African passport holders is being implemented by leading reformers such as Ghana, who this year have joined Rwanda, Mauritius and Seychelles to implement this system. Meanwhile, other African countries have also announced their intention to do so.
Their experience follows in the footsteps of some Regional Economic Communities who have already established a system for free movement of people across their borders, such as ECOWAS and EAC. Countries who have demonstrated such leadership need to be acknowledged. Findings of this second Africa Visa Openness Index highlight the positive momentum for promoting African travel across the Continent.
The process of facilitating visa issuance has improved tangibly since 2015. Besides, the majority of African countries have either opened up further or stayed the same during that period. The top 20 most visa-open countries have higher scores compared to the previous year, and only very few countries remain which do not yet grant visas on arrival.
In July 2016, another milestone was realized with the successful launch of the African Union Passport. This was issued to Heads of State and Government as well as high-level representatives. We are proud to report the tremendous interest in the initiative from governments, businesses and Africans across the Continent. The African Union has future plans to support Member States in rolling out the African Union passport to all citizens, granting them visa-free access to explore the Continent for business, pleasure, leisure and tourism.
Challenges to freedom of movement across Africa undoubtedly still exist. Policy makers, business leaders, civil society and engaged citizens need to highlight where gaps still exist to enable appropriate reforms to be undertaken. African governments are revising their immigration regulations with a view to facilitate movement across the Continent in line with the relevant decision of the Assembly of Heads of State, so as to afford greater opportunities within Africa for our youth and to strengthen the culture of a united, integrated Africa, at peace with itself and with the world.
Thomas Kwesi Quartey Deputy Chairperson, African Union Commission
Visa openness in Africa in 2016
Important progress was made on visa openness in 2016, with African countries on average becoming more open to each other. During the year, milestones for greater freedom of movement across the continent included the launch of the African passport in July, and greater reciprocity within Regional Economic Communities, promoting regional integration. The findings from the first edition of the Africa Visa Openness Index, launched in March 2016, energized the debate, highlighting the continent's top performing countries and the priority visa openness solutions that countries could adopt as policy reforms. Over the year, four countries moved up into the top 20 most open countries in the Index, and over a third of countries put in place efforts to offer more liberal visa policies. At the same time, more countries announced specific measures to improve their visa regimes going forward.
2016 Findings: Countries moving up
Ghana
While a number of countries still have a distance to travel to make greater progress on visa openness, countries from across West Africa, North Africa and Southern Africa moved up the Index rankings in 2016. In the top 20 most visa-open countries in Africa in 2016, there are four new countries.
"With effect from July this year, we will be allowing citizens of AU Member States to enter our country and obtain visas on arrival with the option to stay for up to thirty days and experience what our country has to offer. This measure, with time, should stimulate air travel, trade, investment and tourism." President John Dramani Mahama of Ghana, State of the Nation address, 25 February 2016
Continent-wide, Ghana has made the most progress in 2016 in opening up its borders for other African travellers, moving into sixth place in the Index, up sixteen places from 2015. The country offers 96% liberal access to all Africans. This is the case either through offering visa-free access to almost a third of all countries (including for the other 14 ECOWAS member states) or visas on arrival to almost two thirds of countries in Africa (from less than 10% in 2015).
Ghana's policy decision follows a resolution adopted in early 2016 at the AU's Executive Council on issuing visas on arrival for member states, with the possibility of a 30-day stay. This ties in with Ghana's pledge to support the continent's wider integration efforts and Agenda 2063, including through forging stronger links with its Francophone neighbours.
Economic drivers play an important part in Ghana's new open visa policy in encouraging African visitors to the country, particularly in promoting the country's travel, tourism, trade and investment sectors. Total travel and tourism contributed 7.8% to Ghana's GDP in 2015 and is forecast to rise by 2.4% in 2016, according to the World Travel and Tourism Council.
Ghana's visa policy: African Union citizens are to be issued with visas on arrival, valid for 30 days, at Kotoka International Airport, with other ports of entry to follow. Visitors must have return air ticket/evidence of onward travel, evidence of sufficient funds, and proof of accommodation.
Senegal
Senegal has moved into the top 20 most visa open countries in Africa, up 9 places from 2015 by offering visa-free access to 42 African countries alongside other ECOWAS member states. The country offers 78% liberal access to all Africans, more than double the figure from 2015. In order to match the ranking of Seychelles - the most visa-open country in the Index - Senegal would need to offer visa-free access to 12 more African countries.
Senegal's visa policy decision to promote freedom of movement for Africans builds on the country's efforts since 2015 to re-energize the tourism sector. This has included a set of measures to cut payments for visas to the country, and to lower prices by reducing informal taxes on air tickets by 50%, particularly passenger fees, insurance tax and stamp duty. In line with these initiatives, total travel and tourism contributed 12.4% to GDP in 2015 and was forecast to rise by 4.4% in 2016, according to the World Travel and Tourism Council.
A Forward Look
Africans were able to travel more freely across the continent in 2016, as visa openness levels improved from 2015. The priority is to continue this positive trend and deliver on the AU's decision for countries to issue visas on arrival for all Africans in line with Agenda 2063.
"This Index is going to expand the discussion about regional integration. It is time to check what leaders and governments are doing in terms of human mobility. You can see how much integration we need to make progress, taking into account the opportunities offered by a growing market that is going to grow to 2 billion by 2050." - Carlos Lopez, Former Executive Secretary, United Nations Economic Commission for Africa
At the same time, African countries can make progress by facilitating visa procedures, cutting the time, documents and costs involved, as well as by making air travel cheaper and more accessible. Countries can also take advantage of technology developments and put in place electronic systems, which also promote regional security and cooperation. And, in a period of slow economic growth due to falling commodity prices, alongside a decline in international tourist arrivals in Africa, more open visa policies can help to re-energize the tourism industry, promote more African tourists and build the AU's vision of Brand Africa.
Migration could break or make the future of the continent, according to a recent study by SEF, which includes a call to action for governments, business and civil society to promote freer movement of people that integrates economies and builds strong cultural and social ties. Going forward, greater visa openness in Africa can help to tackle global migration challenges, such as the Mediterranean crisis, while building a people-centered African integration that offers new travel, trade, leisure, study and job opportunities for all Africans.
High level panel on migration launched with Liberia's Sirleaf as chair
Economic Commission on Africa
http://www.uneca.org - Direct URL: http://tinyurl.com/y6w54lrx
Monrovia, Liberia, 6 June 2017 (ECA) - "Just last week, some forty young men and women died of thirst in the Sahara Desert, while trying to reach Europe. More than a thousand have perished in the Mediterranean Sea since the beginning of this year." Those were the words of President Ellen Johnson Sirleaf in her remarks during the launch of a High Level Panel on Migration (HLPM) in Africa, which took place on Tuesday in Monrovia.
Ms. Sirleaf noted that in many places in Europe today, "a mixture of migrants from diverse backgrounds have been living in the streets, under conditions that can best be described as inhumane."
Established in April 2016 by the Economic Commission for Africa (ECA) under the direction of the joint African Union(AU) and ECA Conference of Ministers in Addis Ababa, HLPM is made up of 14 members with Ms. Sirleaf as chair. The panel aims to push migration issues to the top of policy agenda by engaging major stakeholders and partners.
Speaking during the launch, ECA's Acting Executive Secretary, Abdalla Hamdok, stated that Africa is still missing out on the many benefits of migration because of tight border policies. He deplored the fact that Africans need visas to travel to 55% of other African countries.
"Travel in Africa by Africans is curtailed by stringent visa requirements, excessive border controls and immigration restrictions", said Hamdok, adding that the phenomenon "increases the costs and risks of migration and often comes into conflict between individual motivation to migrate and state restrictions on mobility."
Mr. Hamdok also stated that although international media outlets tend to present images of large numbers of migrants crossing the Mediterranean Sea into Europe as being mostly from Africa, intra-Africa migration still dominates migration flows on the continent.
"Data shows that less than three per cent of Africa's population have migrated internationally and less than 12 per cent of the total migrant stock in Europe are from Africa."
This view was also highlighted by Ms. Maureen Achieng, Representative of the International Organization for Migration (IOM) to the AU, ECA and IGAD.
"Migration from Africa towards other regions is taking place in a much lower level than one might think," said Ms. Achieng. "There are an estimated 7.5 million West African migrants in West Africa compared to 1.2 million in North America and Europe combined."
The issue of excessive border controls was also deplored by Ms. Alma Negash, founder of Africa Diaspora Network and member of the HPLM. Ms. Negash cited Uganda's acceptance of migrants as good example of what African countries should be doing.
"I salute the exemplary conduct of Uganda on migration. In the past few years, Uganda alone took 800 thousand South Sudanese migrations and refugees. Africa needs to accept and take care of its children."
For his part, Knut Vollebaek - an HLPM member and former minister of foreign affairs of the kingdom of Norway - said the government of Norway "is very pleased" with the HLPM initiative. Mr. Vollebaek expressed hopes about the panel's ability to achieve its goals.
"It is my hope that we the panelists under the wise leadership of President Sirleaf will mobilize political will among governments in Africa and abroad, regional and international organizations, civil society, business and other stakeholders in support of adopting the necessary policies to facilitate the orderly, safe, regular and responsible migration and mobility of people."
Mr. Vollebaek added that, "I hope our work can champion the new development paradigm enshrined in agenda 2030 and Agenda 2063 for Africa."
Over the next few months, the HLPM will consult with relevant constituencies at national, regional and global levels to come up with recommendations on how to build and sustain broad political consensus on an implementable international migration development agenda, taking into account the particular challenges of countries in conflict and post-conflict situations. The report will be submitted to the African Union Heads of State summit in July 2018.
AfricaFocus Bulletin is an independent electronic publication providing reposted commentary and analysis on African issues, with a particular focus on U.S. and international policies. AfricaFocus Bulletin is edited by William Minter.
AfricaFocus Bulletin can be reached at africafocus@igc.org. Please write to this address to suggest material for inclusion. For more information about reposted material, please contact directly the original source mentioned. For a full archive and other resources, see http://www.africafocus.org