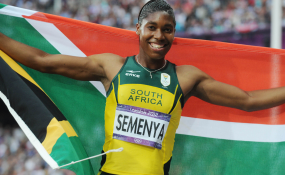 Photo: Gavin Barker/BackpagePix
Berlin — World and Olympic 800m champion Caster Semenya set a new world best for the rarely-run 600m to highlight the 76th edition of the ISTAF, an IAAF World Challenge Meeting, in Berlin's Olympic Stadium on Sunday (27).
The South African clocked 1:21.77 to improve the previous best of 1:22.63 set 20 years ago by Cuba's Ana Fidelia Quirot.
Semenya's performance was the 19th world record or best set at the ISTAF, widely considered Germany's most spectacular athletics meeting.
Pacemaker Ilona Usovich of Belarus guided the field for just under 400 metres when Semenya stormed away, smashing her PB of 1:25.56 by nearly four seconds.
Ajee Wilson of the US, the London 800m bronze medallist, also dipped under Quirot's standard, clocking 1:22.39 for a North American best. Francine Niyonsaba of Burundi was third in 1:23.18.
"I won my first world title here in Berlin, so this city is special for me. I wanted to deliver to thed amazing people," Semenya said. "The 600 is a bit easier compared to the 800. I love speed, so I liked it."
In the women's 3000m steeplechase, Kenya's Norah Jeruto won after running a lifetime best time.
Pacemaker Caroline Tuigong guided the field through the first 1000 metres in 3:02.56 before dropping out. The pace remained fast through 2000 metres, covered in 6:07.88.
Courtney Frerichs of the US, the surprise World Championships silver medallist, was in the lead at that point, but later wouldn't finish.
It was then Jeruto who stormed away, winning in 9:03.70 to smash the meeting record by nearly 18 seconds.
Germany's Gesa Krause, who was unlucky in London when she was tripped and fell in the final, was second in 9:11.85 to break her own national record of 9:15.70.
There was a personal best for Christina Manning in the 100m hurdles as well. The American ran a fine 12.54 to defeat Danielle Williams of Jamaica, who clocked 12.58, and Alina Talay of Belarus, third with 12.72.
Jamaican Julian Forte produced a strong race in the 100m, storming away in the second half to win with a personal best of 9.91. Ramil Guliyev of Turkey, the world 200m champion, was second in 10.09, just edging Adam Gemili of Great Britain who clocked 10.10.
"London is behind me, the past is the past," said Forte, who didn't advance from the semis of the World Championships. "I was of course planning to peak in London, but the personal best at the end of the season is good."
The men's javelin throw came to life in round two. First it was Czech Jakub Vadlejch who took the lead with 85.15m, which would be his best of day and ultimately good enough for third.
Then Olympic champion Thomas Röhler threw 85.94m, but his lead was short lived as well. World champion Johannes Vetter improved from 78.70m in round one to 86.06m in the second.
He then improved further to 89.85m with his fifth throw. Röhler couldn't top that, although he improved to 86.07m in the final round, giving the victory to Vetter.
"It was a thrilling season with a superb end," Vetter said. "I am really finished now. I am looking forward to the European Championships in Berlin next year."
AUTHOR: IAAF