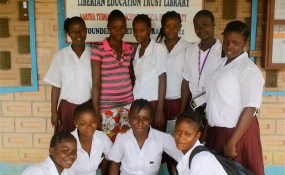 Photo: The Bosh Bosh Project
analysis
"When Liberia's Minister of Education, George Werner, announced last spring that he was inviting foreign education companies and non-profits to run our public schools, our country came under the international spotlight, both in Western media and for education activists. ... Quickly, Liberia was turned into a battlefield between those who see for-profit 'charter' schools as the solution to the problems that plague public education across the world, and those of us who point to underinvestment and poor management as the true culprits." - Mary Mulbah, president, National Teachers' Association of Liberia
In the United States, recent controversy over for-profit education has prominently intersected with national politics, with the spectacle of "Trump University" and the installation of billionaire privatization zealot Betsy DeVos as Secretary of Education in the Trump administration. Internationally, the U.S.-based for-profit company Bridge International Academies (BIA), operating in Kenya, Uganda, Nigeria, Liberia, and India, has won praise from prominent international "philanthropists," but has met with intense criticism and skepticism from educators.
Last week, 174 organizations from 50 different countries called on investors and donors "to fully discharge their legal due diligence obligations and cease support for BIA. We would welcome an opportunity to explore alternatives with donors and investors to identify more effective ways to invest sustainably in providing quality education for all children, including those living in poverty."
This AfricaFocus contains excerpts from that statement, as well as several short background articles and links to resources on the controversy around BIA and Liberia in particular.
For the perspective of Bridge International Academies and its responses to criticism, see http://www.bridgeinternationalacademies.com/
For previous AfricaFocus Bulletins on education, culture, and the media, visit http://www.africafocus.org/cultexp.php
For previous AfricaFocus Bulletins on Liberia, visit http://www.africafocus.org/country/liberia.php
Additional references
"'May' Days in March: Bridge Asked to Account by UK Parliament," by Susan L. Robertson, Unite for Quality Education blog, April 5, 2017, http://tinyurl.com/l4be27k
Education International on Privatisation https://ei-ie.org/en/detail_page/4654/privatisation
Two recent books are interesting for background on this issue in the United States:
Samuel E. Adams, director of the National Center for the Study of Privatization in Education at Teachers College, Columbia University, has written a new book, "Education and the Commercial Mindset" (http://amzn.to/2vAOQJZ) that details how and why market forces have come to rise in public education and become important in corporate school reform. It is reviewed in "Why the movement to privatize public education is a very bad idea," by Valerie Strauss, Washington Post, July 14, 2016 http://tinyurl.com/y9mffc8e
Nancy MacLean's "Democracy in Chains: The Deep History of the Radical Right's Stealth Plan for America" (http://amzn.to/2fqbI8G) has been the subject of intense controversy and of calls from right-wing critics for her to be fired from her post at Duke University. Its thesis is that the right-wing campaign against public education and other attacks on the role of government fueled by the Koch brothers have their roots in academic theories closed linked to opposition to desegregation of schools in Virginia in the 1950s and 1960s, as well as the rise of "white academies" around the South in that period.
Civil society call on investors to cease support to Bridge International Academies
August 1, 2017
[Excerpts only: full 20-page statement, with detailed documentation, available at http://bit.ly/biainvestors]
Introduction
In May 2015, 116 civil society organisations published a statement raising concerns about the costs, impact and quality of Bridge International Academies (BIA), and responding to misleading information about its approach. Since then, evidence from various sources, including the United Nations (UN), a United Kingdom (UK) parliamentary enquiry, independent research reports, and independent media reports, has confirmed these concerns and raised the alarm about the serious gap between the promises of BIA and the reality of their practice, and pointed to other serious challenges.
Cartoon credit: Education International
Key evidence:
Independent research shows BIA's fees and practices exclude the poor and marginalised;
Documents from the Ministries of Education in Kenya and Uganda demonstrate that BIA has repeatedly failed to respect the rule of law, including minimum educational standards, over several years;
Documents from BIA show poor labour conditions;
Media reports cite concerns about freedom of expression and lack of transparency;
The United Kingdom (UK) Parliament has raised serious questions about BIA's relationships with governments, transparency, and sustainability, as well as the absence of valid evidence of BIA's positive impact;
UN and African Commission on Human and Peoples' Rights statements raise concerns about negative impacts on education quality, equity and social segregation and stratification.
We recognise that most investors in BIA have positive intentions in wanting to improve the education of children living in poverty. There is an urgent need for education reform - to improve access, equity, and quality for all - so that education can fulfil its potential to play a transformative role in personal, community, and national development. However, evidence demonstrates that investing in BIA is not an appropriate or effective means to meet these objectives.
In light of these findings, the 174 undersigned organisations from 50 different countries are calling on investors and donors to fully discharge their legal due diligence obligations and cease support for BIA. We would welcome an opportunity to explore alternatives with donors and investors to identify more effective ways to invest sustainably in providing quality education for all children, including those living in poverty.
What is Bridge International Academies?
BIA is a large-scale network of private pre-primary and primary schools claiming to deliver "quality affordable education to underserved families and children". It operates over 500 schools in India, Kenya, Liberia, Nigeria, and Uganda, with ambitions to reach 10 million pupils by 2025. It has received investments from major international investors including the Chan-Zuckerberg Initiative, the Omidyar Network, the United Kingdom, the United States, the World Bank, Pearson, and Bill Gates, for a total amount estimated to be over 100 million US dollars.
It uses what it calls a "school in a box" model, employing a highly-standardised approach to education. At BIA, every school looks the same, the material used is the same in each classroom, and most importantly, the lessons are the same across all the academies of the same country. BIA uses a system of scripted lessons, and its teachers - who are mostly secondary school leavers without formal teaching qualifications - receive lesson plans on an e-tablet, which they have to follow word by word.
"UK urged to stop funding 'ineffective and unsustainable' Bridge schools
Civil society groups call on foreign donors not to fund Bridge International Academies, citing high fees, low pay and poor teaching methods"
Rebecca Ratclifee and Afua Hirsch
The Guardian, August 3, 2017
http://tinyurl.com/y85g4qkg
A coalition of 174 civil society organisations has called on international donors, including the UK government, to drop support for a private school company operating in Africa.
Bridge International Academies (BIA) provides technology-driven education in more than 500 primary and nursery schools in Kenya, Nigeria, Uganda, Liberia and India. Bill Gates and Mark Zuckerberg are among the high-profile philanthropists from whom the American startup has received funding.
In a statement, campaign groups said the firm charges prohibitively high fees and that teachers are poorly paid, receive little training, and are given inflexible, scripted lessons to read from tablets. The organisations also accused BIA of intimidating its critics, a claim the company has denied.
The statement, signed by organisations from 50 different countries including Global Justice Now and Amnesty International, cited research suggesting that the poorest students cannot afford to attend Bridge schools.
"BIA's model is neither effective for the poorest children nor sustainable against the educational challenges found in developing countries," said the campaigners, who alluded to "mounting institutional and independent evidence that raises serious concerns about BIA" and warned of "significant legal and ethical risks associated with investments" in the company.
In Kenya, sending three children to a Bridge school is estimated to represent almost a third of the monthly income of families living on $1.25 (94p) a day, according to a joint study by Kenya National Union of Teachers and Education International, a federation representing 32 million teachers and support staff. The researchers noted that teachers are required to work between 59 and 65 hours a week for a monthly salary of $100.
Uganda's high court ordered the closure of 63 Bridge schools last year, ruling that they provided unsanitary learning conditions, used unqualified teachers and were not properly licensed. No schools have been closed and Bridge is in dialogue with the government.
In April, following an inquiry into UK aid spending on education, the chairman of the UK parliament's international development committee questioned whether grant funding should have been provided to Bridge. "The evidence received during this inquiry raises serious questions about Bridge's relationships with governments, transparency and sustainability," Stephen Twigg wrote in a letter to the international development secretary, Priti Patel.
Bridge's model, under which teachers are given electronic tablets containing lesson plans, is seen by some as an answer to improving access to education in low-income countries. In Liberia, BIA is the main partner in a government pilot scheme, Partnership Schools for Liberia (PSL), that involves state-funded private operators running state primary schools. Students at the schools are not charged fees.
The scheme was set up to address the country's dire education outcomes. "For the sake of these kids, we had to do something," said Liberia's deputy minister for education, Romelle Horton. "Quality has to improve."
One-third of the country's 15- to 24-year-olds are illiterate and, in 2013, none of Liberia's 25,000 school-leavers passed the university entrance exam.
Franklin C Jah, the vice-principal for instruction at Martha Tubman public school in Nimba county, one of the Liberian schools that has partnered with BIA, said standards have risen. "Last year, at this school, the students would just copy from the board," he said. "The teachers would not even explain the notes. But now a computer tells us what to do."
Initial government assessments suggest Bridge schools in Liberia are generally outperforming their state counterparts. The percentage of pupils scoring zero in reading comprehension in Bridge schools fell by 14% among year 1 pupils, while it increased 2% in government schools. However, pupil attendance was higher in government-run schools: 70%, compared with 60% in Bridge schools by the fourth school term.
But Mary Mulbah, president of the National Teachers' Association of Liberia, has criticised the government for pushing ahead with plans to expand the scheme before receiving results from a larger study. "We don't agree that student test scores alone should be used to decide whether to dismantle our public education system," she wrote in a public letter.
Responding to the criticism from civil society groups, BIA said it provides highquality education to marginalised and remote communities across Africa. The company pointed out that it costs an average of just under $7 (£5) a month to send a child to Bridge, and that 10% of students are on scholarships. BIA added that teachers work about 54 hours a week and are given high-quality training before and during their careers, with salaries - between $95 and $116 a month in Kenya - higher than in other non-formal schools.
"Our pupils are outperforming their peers in national exams over consecutive years. Our model means that we're able to attract new investment towards solving one of the world's most pressing problems: hundreds of millions of children who are not learning," the Bridge statement said.
"Public schools and Bridge schools can and do operate side by side to serve communities in countries where there are major shortages of nurseries and primary schools. We help governments quickly address the gap between how many schools they have and how many they need."
The UK Department for International Development said: "We have supported over 11 million children in primary and lower-secondary education from 2011-15, including over 5.3 million girls.
"Many of the world's poorest countries rely on privately run schools to provide an education where state provision is failing. Without privately-run schools, millions of children would be denied an education.
What's bad for America's children deemed good for others: Riposte to Nick Kristof
August 1, 2017
Fred van Leeuwen
[Fred van Leeuwen is General Secretary of Education International ( https://www.ei-ie.org/), a global union federation consisting of 401 member organisations in 172 countries and territories that represents over 30 million education personnel.]
http://africasacountry.com/ - Direct URL: http://tinyurl.com/yad4ebwb
Writing in The New York Times [http://tinyurl.com/y8vb5rgt] about the growth of privately run for-profit schools in Liberia, the paper's columnist Nicholas Kristof praises the turnover of a significant number of public schools in Liberia to Bridge International Academies, a US-based for-profit education company. That same company that has been ordered to close its schools in Uganda and Kenya for its neglect and disregard of national educational standards.
Kristof claims that those who oppose the commercialization of education in Liberia and elsewhere, including Education International, are driven by ideological motives rather than the interests of children. This is incorrect. Around the world, the teaching profession is the most outspoken advocate of children's right to quality schooling. That right is to be realized by governments. And where public authorities fail to make their public schools work, they need to be held accountable and pressured to do better rather than permitted to wheel in the marketeers to do the job they were elected to do in the first place.
Kristof believes that Americans are grown up enough to handle their own education system, but without a shred of evidence he offers that the "solution" for Liberia is to turn their schools over to a foreign, US based corporation.
Liberia experienced two civil wars, the first from 1989 to 1997 and the second from 1999 to 2003, followed by a transition to democracy and elections in 2005. The destruction of those wars left the population vulnerable to the Ebola virus in 2014 and 2015. That catastrophe inflicted serious damage on the economy and education.
Education is a public service that enables people to listen, sows the seeds of tolerance, heals wounds and develops critical thinking. It is a building process that contributes to development, good governance and decent societies.
On the other hand, education that limits such progress, restricts discussion, and focuses exclusively on a few narrow skills fails children and society. Bringing in private education operators, particularly in relative obscurity, is not an example of good governance. Handing over Liberia's primary and pre-primary education system to a foreign for-profit company like Bridge is as bad for Liberian education as it is for the country's democracy.
It is of deep concern that deals between the government of Liberia and the education privateers have been so opaque and that independent research and evaluation have been dismissed. Despite the promise that any significant expansion of the privatization project would depend on some rigorous evaluation six months into the trial, the Ministry of Education decided to double the number of schools in the project's second year.
This earned the Minister a public rebuke from the government appointed evaluation team and the criticism of the international academic community. Suppressing independent research and evaluation and precipitous action are linked. Both have the effect of limiting governance by chilling or blocking informed, public discussion.
The current situation in Liberia is best summed up by Mary Mulbah, the President of the National Teachers' Association of Liberia (NTAL), who wrote on Africa is a Country last week:
Ultimately the key question is this: why is our own government so incapable of managing this critical public service that it must give the keys to our children's future over to foreign companies and charities who often seem to have little to no understanding of our country and culture?
As teachers, we have a profound interest in seeing a well-financed, responsibly managed, modern school system that grants all of our students the best chance to succeed in difficult circumstances. But we believe this is best achieved through robust public investment, better administrative management, and stronger accountability for teachers as well as the ministry officials that supervise them.
Noting "successive studies," Kristof himself acknowledges that for-profit schools "hurt children" in the US. Yet, without missing a beat, he proclaims that they are good for Liberian children.
In the US, as in Liberia, support for the privatization of education systems is not based on objective information, evidence or informed debate. It is, rather, driven by ideology; by the dogma that private must be better than public. It is only recently that much of the American public has realized that they have been victims of exaggeration, empty promises and deception.
Liberians should not be guinea pigs in an experiment to transform the noble mission of public education into a market opportunity for foreign capital.
So, a plea to Nicholas Kristof: let's not wish upon other people's children that which we would not accept for our own.
* This text was first submitted to the New York Times as an oped response to Kristof. The newspaper informed Education International that it does not "run response pieces as op-eds."
Why is Liberia's Government rushing to sell its public schools to U.S. for-profits?
July 19, 2017 by Mary Mulbah
http://africasacountry.com - Direct URL: http://tinyurl.com/yd6kz73s
When Liberia's Minister of Education, George Werner, announced last spring that he was inviting foreign education companies and non-profits to run our public schools, our country came under the international spotlight, both in Western media and for education activists.
The Minister and the supporters of the government's plan excitedly championed the notion that clever thinking and technology could turn around our troubled school system. However, the broader education community warned that the consequences of turning an impoverished country's school system into an "experiment" would be grave, and could lead to lasting damage to Liberia's ability to run its own public services and provide free education.
Quickly, Liberia was turned into a battlefield between those who see for-profit "charter" schools as the solution to the problems that plague public education across the world, and those of us who point to underinvestment and poor management as the true culprits.
At first, Minister Werner wanted to outsource all of our public schools to one company - US-based Bridge International Academies, which has come under sustained criticism in Kenya and Uganda for operating substandard schools and flouting government oversight.
Pushback against this plan - which violated our national anti-corruption laws - resulted in the government inviting other companies and providers to take place in what was described as a pilot, which was to be judged independently at the end of the first year.
In all, 93 schools were taken over by foreign providers, with Bridge remaining the largest beneficiary of the pilot, managing 25 of our schools.
Now, the first year has concluded. But instead of waiting for the results of the Randomized Control Trial presently being conducted by the Washington D.C.-based Center for Global Development, the Liberian government is pressing forward with another expansion.
In fall 2017, we are told, an additional 107 public schools will be incorporated into the pilot. Contrary to assurance by the minister that there would not be any significant scale-up in the absence of evidence, that represents more than doubling the so-called pilot.
As the national representative body of Liberia's teachers, we don't agree that student test scores alone should be used to decide whether to dismantle our public education system. But the fact that the Liberian government is planning to expand the pilot before it receives the results of a study it commissioned is a clear sign that it is not interested in thoughtfully weighing the consequences and impact of its radical plans.
In fact, while high-profile delegations of celebrity visitors and expensive symposiums have been used to trumpet the "successful" outsourcing of our schools, the story on the ground is much more concerning, and does not align with the rosy picture being painted by the Liberian government, Bridge, and other providers.
Investigative reporting has shown evidence that parents in some towns where outsourced schools are located are furious that their children were left without access to education due to limits on class sizes in pilot schools, which were hastily implemented without a plan to assist students who were left out.
Parents were also promised that extended school hours would be supported by the implementation of school lunch programs that have failed to materialize, leading to large numbers of dropouts in some schools.
These and other harmful impacts of the pilot are easy to find. One simply needs to go to the towns where the schools are located and speak with parents and teachers. Any objective observer will almost certainly discover that there are serious problems that must be addressed before an expansion is even considered.
But far from being serious about methodically and responsibly measuring the effects of the pilot, our Ministry of Education seems determined to increase its scope.
In recent weeks, our global federation, Education International, was informed by the Ministry that a team of American academic researchers hired to provide a critical analysis of the pilot would not be allowed access to any of the schools or the administrators who supervise them. This begs the question: what do they have to hide?
Simultaneously, senior leaders of our teachers' union have been fired by the government for speaking out against the pilot, and teachers working for Bridge have been told there would be consequences if they spoke to their union representatives or journalists about their concerns. Our union has come under attack not just by the government, but also by those who see us as an impediment to the effort to bring our school system under outside management and control.
Ultimately the key question is this: why is our own government so incapable of managing this critical public service that it must give the keys to our children's future over to foreign companies and charities who often seem to have little to no understanding of our country and culture?
As teachers, we have a profound interest in seeing a well-financed, responsibly managed, modern school system that grants all of our students the best chance to succeed in difficult circumstances. But we believe this is best achieved through robust public investment, better administrative management, and stronger accountability for teachers as well as the ministry officials that supervise them.
The government's reluctance to honestly assess the effects of the first year of this radical initiative should give pause to anyone who thinks that it represents the best hope for Liberian children.