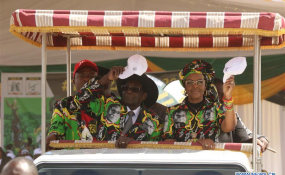 Photo: Xinhua
By Freedom Mupanedemo
All roads lead to the Midlands Province for the seventh leg of the Presidential Youth Interface Rally to be held in Gweru on Friday, instead of Saturday as earlier announced. The provincial leadership met on Friday last week to tie up the loose ends. Briefing the Provincial Coordinating Committee (PCC) meeting chaired by Foreign Affairs Minister, Cde Simbarashe Mumbengegwi, Midlands provincial administrator, Mr Abiot Maronge, said everything was now in place for the President's visit.
He said the province was working closely with the youths and were targeting a crowd of over 120 000 to meet the President.
"As the chair (Minister Mumbengegwi) has alluded, we want this rally to be the mother of all interface rallies and we have mobilised resources and transport with a target of 120 000 people to meet the President," said Mr Maronge.
"We are working hand in hand with the youths and have since established committees to make sure that everything is in place."
Mr Maronge said they have mobilised enough transport to ferry people from across the province to the venue.
"At the moment, we have secured 100 buses, 64 lorries and 20 kombis, which will be ferrying people to the venue," he said.
"At the venue, we now have water and power already connected. Work to pitch up tents will start on Monday. In short, the province is now ready to host the President for his date with the youths.
"Its all systems go. We are ready for the President. For emergencies, we have two doctors, 25 nurses and three nurse aides, who will be handy to attend to emergencies. These were organised by our health committee. We also have the protocol committee and the security committee, among others."
Giving contributions, National Railways of Zimbabwe board chairman Cde Larry Mavhima pledged to organise rail transport for people from Mberengwa.
Minister Mumbengegwi said he was happy with the progress.
"Yes, it is a youth interface rally, but we cannot afford to take a back seat," he said.
"The youths have invited everyone to come and support them and we want to help them so that the province has a mother of all interface rallies."
After the meeting, the provincial leadership toured the venue for the interface rally, an open space that has been christened Mugabe Square along the Gweru City-Mkoba Road.