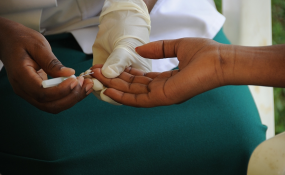 Photo: The New Times
The National AIDS Commission of Liberia (NAC) has reported an increased in the number of persons infected with HIV in Liberia.
The Commission disclosed that the number of persons living with HIV has now jumped from 33,000 to 43,200, with the prevalence rate at 2.1%,
In a release, the Commission said the new figure represents the finalized Spectrum 2017 Estimates and published by the National AIDS Control Program of the Ministry of Health.
Spectrum is a software of the Joint Nations Programme HIV and AIDS that estimates different HIV indicators within the country.
A release from the National AIDS Commission said of 43,200 persons infected with HIV, 24,000 are women, while 15,000 are men.
The release said 39,000 of the 43,000 persons living with HIV are adults while 4,200 are children.
The Commission said of the 43,000 infected persons, only 8,076 are on treatment representing 18.7%.
The report said 2,000 pregnant women are in need of Anti-Retroviral Drug, and that out of that number, 1,382 (69.1%) received ARVs.
The report also said a total of 2,900 persons are infected with HIV annually, while 2,800 persons died of AIDS related causes annually.