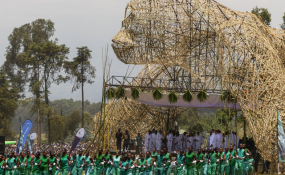 Photo: Gorilla Fund
By Athan Tashobya
At least 500 tickets were sold out for the annual Kwita Izina Gala Dinner held on Saturday night at the Kigali Convention Centre, according to Belise Kariza, Chief Tourism officer at Rwanda Development Board (RDB).
Kariza said that by Friday morning tickets to the gala dinner had been sold-out an indication that members of the public are dedicated to support the country's conservation efforts.
The colorful event attended by several other invited government officials, renowned conservationists among others; was spiced up by performances from the US-based Rwandan R&B singer Ben Mugisha alias The Ben.
The fundraising dinner was intended to raise funds for expansion of the Volcanoes National Park under the "Expansion of Gorilla Habitat" project, according to RDB.
Kariza said that the amount of money collected from auctions and tickets sales was yet to be consolidated.
Last year's Gala dinner raised around Rwf30 million in both ticket sales and the auctions, Kariza told The New Times in a recent interview.
"All the money that has been raised so far along with the funds that will be raised in the near future will be used in efforts to expand the park," she said.
Individual ticket stood at Rwf 99,600 ($120).
"The Expansion of Gorilla Habitat project is Rwanda's long-term goal and should be a concern for us all. Every Kwita Izina we celebrate new babies, implying increase in number of these endangered creatures. To date, the carrying capacity of the Park is limited and that is why this is an urgent and important issue to address," she added.
The size of Volcanoes National Park as of 1958 was 33,870 km2 before neighbouring population encroached on it.
Currently, the park covers 160 km2.
The New Times understands that, once resources are availed, RDB will have to buy land from the people living near the park and relocate them to pave way for expansion.
Mary Anne McDonald, a professional wildlife photographer, who has trekked Mountain gorillas 100 times was at the gala dinner with her husband Joe McDonald.
Both told The New Times that Rwanda's conservation efforts are "inspiring" and "one of a kind".
"We have been to so many places in the world. But it is in a very few places where you will see money generated from tourism being invested in conservation as it is in Rwanda. This is inspiring," Joe said.
Joe's wife Mary Anne said that," she believes in Rwanda's conservation efforts because it is very ambitious and one of a kind I have seen.
"This makes every other experience of coming to Rwanda and visiting gorillas seem rather new to us," she said.
Last year, Marry Anne was among the gorilla namers. This year, her husband Joe is expected to get the opportunity to name one as well. This year, 19 mountain gorillas will be named on September 1, in Kinigi.
Up to 239 mountain gorillas have been named in the 12 ceremonies since the first Kwita Izina in 2005.
Follow @AthanTashobya