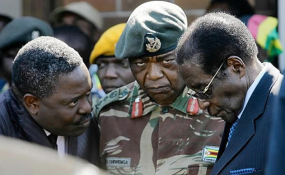 Photo: New Zimbabwe
President Robert Mugabe Saturday boldly told his army boss to clean his "own dirt" as he went on to berate the country's police force for their "evil" deeds during roadblocks.
He was addressing thousands of mourners during Saturday's burial of Maud Muzenda, the widow of his late deputy Simon Muzenda, and Zanu PF politburo member, George Rutanhire, who both died recently.
However, President Mugabe took the occasion of a rare burial ceremony for two heroes to scold the country's police force for terrorising civilians through demanding bribes during endless roadblocks. He urged citizens not to fear soldiers.
Mugabe said he wanted Zanu PF to remain ideologically inclined towards working for the people's "interests and rights" and to continue uplifting them.
"So we are a people's party; the police, a people's police force; the defence forces, an army, to secure our people, to defend them when necessary; intelligence, for us to know whether we have enemies who would want to affect our living standards and who are part of the detractors of our development," he said.
The president urged the country's security organs to stop antagonising each other following recent violent clashes in Harare's CBD between uniformed soldiers and the police.
"The three (organs) must work together and I plead, please, please have harmony between yourselves; please, please share ideas; please, please have your joint meetings and please, please, let your programmes, the programme of each of you be known to the others."
He also urged civilians not to fear the army.
"We the majority must not fear our soldiers. They are your soldiers; they want to work with you," he said, adding, "The police force; be a police force for the people, not what we hear that you stop people along the roads to demand bribes. We don't want to hear that. So stop that evil!"
President Mugabe said police were free to open up "genuine" joint businesses such bus companies or farms to supplement their incomes.
He said police should not go behind the rest doing "computers" that go on to kill people.
Said President Mugabe, "Combine, combine, combine and come in the open, we can give you an opportunity to do your own bus company.
"That (bus companies) is more dignified. Not to lay ambushes for people's monies," he said.
President Mugabe was referring to endless police roadblocks that have caused a lot of apprehension among locals who find themselves losing monies through paying bribes.
Ministers have, likewise, joined the chorus for police to vacate the country's roads with Tourism Minister Walter Mzembi constantly saying a heavy deployment of traffic police scared away tourists.
Mugabe, who has often reserved great praise for the military, then turned to Zimbabwe Defence Forces commander Constanino Chiwenga.
"It (mischief) is also there in your own backyard Chiwenga. Please clean your dirt. It is also there. But what I was mostly talking about is the one which the people are complaining more about," President Mugabe said.
He did not elaborate on what the mischief from the army was although he has in the recent past scolded top army bosses for meddling in Zanu PF succession politics.