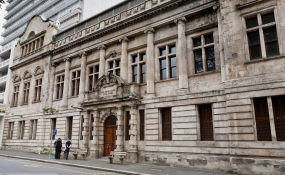 Photo: Alcuin TK Lai/Wikipedia
analysis
By Zweli Mkhize
The comprehensive nature of our input as the African National Congress to Parliament's ad-hoc committee on political party financing arrangements in our country must serve to clarify all issues regarding our stance on this important, but controversial subject.
Let us state from the onset that as the ANC we do not accept money from criminals or proceeds of crime, a position we have always made very clear. Consequently, we have pointed out to potential funders that donating to the ANC does not offer protection or immunity against investigations of irregular transactions.
Our rule is simple: We do not accept donations we cannot divulge.
It is in this context that we have been readily forthcoming with an answer when the media speculated about the extent of support the ANC had received from the Gupta family. We confirmed receipt of R5-million which, as we have pointed out, is a small fraction compared to the percentage of ANC scale of fundraising.
As we do with all our donors, we believe it is common decency for us to write to them to acknowledge their contribution and, importantly, express our gratefulness. The Gupta's were no exception in this regard and we can confidently state that...