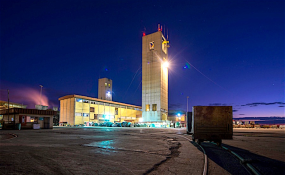 Photo: Harmony
Screams and cries for help were the last thing miners at the Kusasalethu mine near Carletonville heard as a sudden tremor left five of their colleagues trapped underground.
The tremor, measuring 1.2 on the Richter scale, caused sections of the gold mine to collapse at around 10:30 on Friday.
There were about 3 000 miners working at the time of the tremor and all, apart from the five, were safe at the time.
Three bodies have since been brought to the surface while rescuers are still hard at work to free the remaining two, trapped 3.1km below the surface. It is not known whether they are still alive.
One of the workers, who asked not to be named for fear of losing his job, told News24 the last thing he could remember was a desperate cry for help from his colleagues.
The worker said that he worked close to the scene.
He said he has been employed at Kusasalethu mine for five years.
"We heard cries and the painful thing was that we couldn't reach them. I'm really in pain about what happened. My heart is broken," he said.
"It's hard reaching the people because the way in had collapsed," he said.
Mining operations have since been suspended.
Not enough
Workers on Monday gathered outside the hostels and some were seen sitting under trees and drinking beers.
The hostels are surrounded with vendors who sell snacks, cooldrinks, cigarettes and other day-to-day necessities.
A second worker, who also spoke to News24 on condition of anonymity, says he started working at Kusasalethu in 2001.
He claimed that 16 years ago he had also worked at the area where the miners were trapped, but due to a back injury he was moved to a different part of the mine.
"I don't go where they work. I usually open the shaft for them to go in and out.
"I got an injury because of a mine blast, but I was able to escape. The rocks fell on my back but the doctors said I didn't fracture anything."
He said he however, still suffered from back pain.
He said the mine did its best to improve safety conditions underground, but it was not enough.
Funding
On Monday, the Association of Mineworkers and Construction Union (Amcu) said they were worried that the seismic events were becoming "very common".
"A month ago this happened at a mine up the road from here. We want to make a call on all the role players in the industry, nationally and internationally, to government, that we need to get together because a higher level of strategy intervention is required," Amcu deputy president Sanele Myeza said.
Myeza said they did not want a recurrence of the same events in the neighbouring mines.
Harmony Gold spokesperson Marian van der Walt said they had a good idea where the remaining miners were and that they (Harmony Gold) were making good progress.
Van der Walt said they had put funding in place to support the families through the difficult times.
"We will make sure that their children's school fees are paid and will also contribute to their funerals."
News24