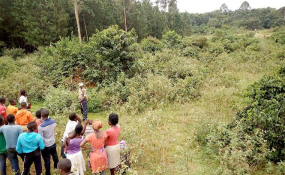 Photo: The Observer
By Yudaya Nangonzi
Police has released the names of 13 people that they suspect to be involved in the wave of murders targeting mainly women and girls in Nansana Municipality, Wakiso district.
The arrest of the 13 persons followed nine murder cases that were reported by various people in Nansana between May 3 and August 18, 2017.
The murder victims included four sex workers, three estranged housewives; a vendor and a student. They are believed to have been sexually abused before they were murdered.
Speaking to journalists in Kampala today, Police spokesman AIGP Asan Kasingye said the suspects are going to appear before the Chief Magistrate's court in Nabweru anytime today.
"We have concluded our investigations in Nansana and have enough prima facie evidence against the suspects," Kasingye said.
With the ongoing judicial strike over poor pay, Kasingye said the directorate of public prosecution (DPP) and IGP Kale Kayihura are currently working tooth and nail to ensure that suspects are arraigned in court.
"These are capital offence suspects. The DPP and IGP are right now trying to get us a magistrate who can hear their cases. They might not call the witnesses but at least have the case for mention so that the suspects are taken to prison," he said.
The accused are Rashid Wagaba (builder) aged 34, Ibrahim Kaweesa alias Tetemwe, Robert Mugerwa alias Bob, (builder) 39, Isma Tamale (hawker) 38, Steven Ssempijja alias pastor (self-employed) 23, Mahad Kakumba (taxi driver) 27, Sam Mayambala (Boda boda rider) 30, George Sempa (driver) 27 and Phillip Tumuhimbise, a business man aged 24.
Others are; Tina Prosper Nantoongo alias Mayambala aged 22, Waligo Bosco (self-employed) 19, David Wasswa (business man) 31 and Ismail Ssegawa, a casual worker, aged 21.
All suspects are residents of Nansana - save for Wasswa of Namungoona and Waligo and Ssegawa both living in Kawaala.
According Kasingye, Kaweesa, now a prime suspect in the murders was the first person to be netted by police, thus leading them to other people. Kaweesa is a former robbery convict who was only recently released from prison.
He explained that the 13 suspects were charged with; terrorism contrary to section 7 (1) (a) and 2 (b) of the Anti-Terrorism Act, 2002; murder under section 188 and 189 of the Penal Code Act cap 120 and aggravated robbery also contrary to section 285 and 286 of the Penal Code Act.
Out of the nine murders, police found that eight of them were carried out by organised gangs with strong links to ritual practices as most of the victims were sexually abused and some of them had some body parts cut off.
In one case, a woman was killed as result of domestic violence arising from land ownership. Her husband and the maid who were prime suspects appeared before court, according to Kasingye.
However, medical reports from pathologists have also indicated that the killing method in Nansana is mainly strangling of victims.
In an August 21 statement while in Nansana, Kayihura noted that the many apprehended suspects in the murders have confessed to raping and murdering victims.