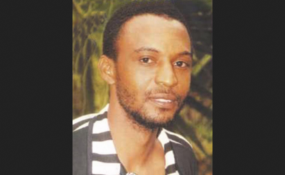 Photo: New Zimbabwe
Gospel singer Elias Musakwa, 48, is in trouble for threatening a neighbour with death after he reported him to the police over noise pollution in the neighbourhood during his shows.
The trial of the musician, who is answering to charges of threats of future violence before Harare magistrate Babra Mateko, started Monday with him denying the charges.
Musakwa told court that there was bad blood between him and Kennedy Mudukuti who claims that he threatened to shoot him after he brought the police to his premises.
Court heard Musakwa regularly hosts shows and weddings at his place of residence in Ruwa and he allegedly became angry with Mududkuti after he brought the police and stopped the wedding of one Mairos.
"He saw me standing at our gate and approached me after asking for my name. He wanted to punch me with clenched fists and was stopped by his wife who asked for an apology.
The wife called after two hours saying her husband was ready to apologise but it was too late as I was already at the police station," Mudukuti testified.
It is also his testimony that Musakwa apologised before the police but continued being arrogant and playing loud music disturbing the peace of Mudukuti and his family.
But Musakwa says he only cautioned Mudukuti for trespassing into his yard.
Musakwa said Mudukuti was disrespectful to the extent that, on several occasions, he would turn off his PA system during the shows.
However Musakwa said he had the right to host the events at his premises, the reason why he was not arrested after Mudukuti made several attempts to have him nabbed.
According to prosecutor, Nyikadzino Machingura, Mudukuti reported the case several times and the police cautioned Musakwa for criminal nuisance.
This did not go down with Musakwa who confronted Mudukuti and allegedly threatened to shoot him if he continued disturbing his shows.
It is alleged that the musician told his neighbour that he was well connected thereby inducing fear in him.
The incident occurred on October 19 last year.