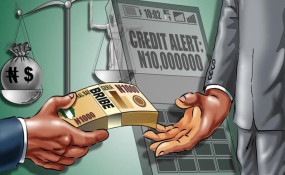 Photo: This Day
By David Ajikobi
In winning Nigeria's 2015 election, President Muhammadu Buhari successfully cast himself as an anti-corruption crusader. But as our factsheet shows, Nigerians' experience with everyday bribery shows he has his work cut out.
Nigeria's first nationwide survey on bribery has shed light on the extent of corruption in Africa's largest economy.
The country's statistics agency interviewed a nationally representative sample of 33,067 households across Nigeria in April and May 2016 on their experiences with bribery in the previous year.
Nearly a third (32.3%) of adults reported paying bribes to a public official or that they were asked to in the year before. Those who did, parted with at least six bribes in the period, paying about N5,300 (about US$17), or nearly a third of the average monthly salary in Nigeria.
The survey estimates 82.3 million bribes were paid. These were worth N400 billion (US$1.31 billion), or nearly 40% of Nigeria's combined federal and state education budget for 2016.
(Note: The current official Central Bank of Nigeria exchange rate is N305/US$. When the cost of living is factored in, the survey placed the value of the bribes at US$4.6 billion.)
What counts as corruption
The United Nations Office on Drugs and Crime, which helped fund the survey, defines corruption as crime committed by private or public officials for personal gain. Examples of this include bribery and embezzlement. It is a crime to give or take bribes, Nigeria's Criminal Code Act stipulates. Other domestic laws also seek to prohibit corruption.
Nine in 10 bribes were paid in cash, with the rest made either as food and drinks or exchanged for another service of favour. Of the respondents interacting with a public official in the period, 67% of respondents said they were not asked for bribes. But 27% said they paid regularly, 4% did so periodically, while 1.3% refused to pay.
Who received the most bribes?
The police topped the public institutions taking the most bribes. Nearly half of respondents said had paid at least one bribe to police officers. Prosecutors, judges and immigration officials were also cited among the most bribed.
The police and the judiciary have both disputed the findings, terming them unfounded.
Who demanded the most bribes?
Customs officers solicited the most bribes, ahead of immigration officials and elected state and local representatives.
The top reasons bribes were paid was to speed up procedures, evade fines or to avoid losing a key utility such as power or water.
Public organisation Bribes sought (%)*
1 Customs officers 86.9
2 Immigration service officers 83.3
3 Police officers 74.7
4 Land registry officers 68.0
5 Public utility officers 63.7
6 Judges/magistrates 61.0
7 Members of the armed forces 59.9
8 Car listing/driving licence agency 59.4
9 Traffic officials 56.4
10 Prosecutors 49.5
*Percentage who reported being asked for bribes. Source: 2017 NBS, UNODC & EU survey
What is the attitude to bribery in Nigeria?
Less than 10% of bribery incidences were reported to the authorities, despite 90% of respondents being aware of the Nigeria Police. Four in 10 respondents (39.2%) did not think the police was effective. But nearly twice as many (78%) thought anti-graft agency Economic and Financial Crimes Commission was competent.
Nearly 70% said they failed to report bribery as it would be "pointless" or because it was such common practice that doing so would not make a difference.
Mega corruption not captured
One limitation to the survey is that it only captured low-level bribery cases in the country, Nicholas Ibekwe, a Lagos-based investigative journalist who has widely reported on high-profile bribery, told Africa Check.
"I don't think it captures the kind of bribery that goes on in this country. I think N400 billion is a far cry from the actual amount," he said.
In recent years, Nigeria has witnessed major bribery scandals. An oil-field scandal implicated a former minister who is alleged to have received hundreds of millions of dollars in kickbacks.
Another was the US$180 million Halliburton bribe scandal that in 2010 entangled two former heads of state.
The survey also focused only on public institutions, even as it noted that bribery in private firms was also significant.
Need to study why public officials are susceptible
Bayo Okunade, a professor of political science at the University of Ibadan in Oyo state said the findings highlighted the complexities of the problem.
"Many institutions were implicated and what we can do is it to first study the basic underlying factors," he told Africa Check.
A broad effort is needed to counter corruption, but Okunade warned it would not be easy. "It is an endemic problem that will [require] a sort of breakthrough to really address."
Development and corruption risk analyst Tunde Oluajo agreed it was important to tackle the reasons why public officials were susceptible to graft.
"What that report has done is to give us like a baseline, so that in the anti-corruption effort government knows what to focus on. Before now, there was no report of this type telling us [about] the prevalence of bribery," Oluajo, who also advises anti-graft watchdog Integrity Organisation, told Africa Check.