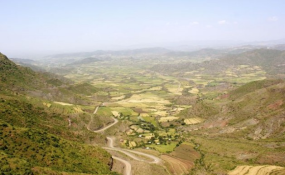 Photo: James Hassam/IPS
By Alazar Shiferaw
Agriculture and Natural Resources Ministry announced that over 90 percent of the cultivated land in the country has been covered by various crops. It also stated that it has been exerting efforts to overcome El Niño related challenges.
The Ministry Crop Development Acting Director Esayas Lema told The Ethiopian Herald that agricultural production and productivity have been growing by six percent for many consecutive years. For instance, during the last harvest season, the nation managed to gain bumper crop of twenty million quintals.
He further said such plentiful harvest had been secured due to farmers' increased inputs utilization, continuous natural resource management, among other agricultural activities.
Aside from utilizing various soil fertility methods, the government's right policies and strategies in the agriculture sector have been immensely contributing to the growth.
According to Esayas, as part of GTP II, the country has planned to harvest crops of 345 million quintals in the next harvest season. "We have supplied and distributed enough amounts of agricultural inputs, offered capacity building and various trainings on irrigation schemes."
Moreover, the ministry distributed about 1.3 million metric tons of fertilizers to the farmers.
The rainy season has been promising and ample selected seeds have been also made ready, he said.
He also noted that the ministry has given due emphasis on the annual natural resource conservation activities and Belg season agricultural duties so as to register sustainable production and productivity.
"We are working hard to achieve nation's agriculture sector GTP II targets."
To overcome El Niño and related consequences, the Ministry has implemented various drought resistant strategies; specially underlining expanding research conducts throughout the country's agro-ecologies to release drought resistant crop varieties.
Previously, drought was occurred within ten years interval. But now it occurs even in two years intervals. But, although its magnitude differs, El Niño case symptom has been manifested this year too, he said.
He further said that natural conservation activities are not only enable farmers getting forest products but they also enabled to keep soil fertility, increase ground water potential and decrease climate change occurrence frequency. Currently such activities have successfully bore fruits. Farmers enable to get water from nearby distances. Thus, when February approaches, every farmer is readied to take part in natural conservation activities.
But as the Ethiopian agriculture depends on rain, the need to use alternative irrigation schemes has no option. Thus, ministry has stressed in scaling up ground water potentials to enable farmers using wheel water and expand small scale irrigation schemes. But as big irrigation schemes demand huge investment, they are constructed by the Ministry of Water, Irrigation and Electricity, he said.
The country sets to produce 500 million quintals by the end of GTP II.