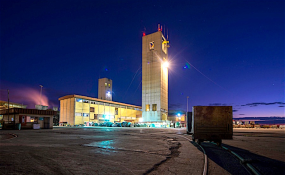 Photo: Harmony
The Chamber of Mines has sent its condolences to the families, friends and colleagues of the three miners who died in Harmony Gold's Kusasalethu mine, near Carletonville.
"Our thoughts are with those who were involved in the incident," Chamber president Mxolisi Mgojo said in a statement on Tuesday.
It commended Harmony's search and rescue work, and the collaboration between the department of mineral resources and the Association of Mineworkers and Construction Union.
This comes after a tremor, measuring 1.2 on the Richter scale, caused sections of the gold mine to collapse around 10:30 on Friday, August 25.
Five men were trapped 3.1km underground. There had been about 3 000 miners working at the time.
Three bodies have since been brought to the surface.
Rescuers are still trying to free the remaining two miners, trapped 3.1km below the surface. It is not known whether they are still alive.
South Africa has the world's deepest mines, which means greater risks and hazards for workers.
According to the Chamber of Mines, since 1994, the number of fatalities in the industry declined by around 88%.
Fatalities as a result of "fall-of-ground incidents" declined by 92% over the same period.
Source: News24