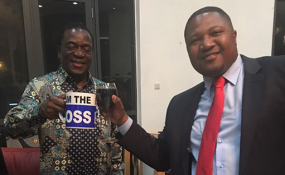 Photo: New Zimbabwe
Zanu PF activist, Energy Mutodi has been summoned by the police to answer to his allegations that Vice President Emmerson Mnangagwa was poisoned by ministers Sydney Sekeramayi and David Parirenyatwa.
Mutodi is also facing charges of undermining the authority of President Robert Mugabe after he was last week arrested by the police for warning the aged leader that his reluctance to set up succession plan was going to trigger a coup.
On Tuesday he said that he had been summoned by the police.
This is after the businessman, who is Mnangagwa's ally, last week said he had the evidence that Sekeramayi and Parirenyatwa had poisoned Mnangagwa through some samosas he ate while travelling to Gwanda for a Zanu PF interface rally.
Mutodi said this happened in an aircraft the three used to travel to Gwanda.
"I can confirm that I have been called by the police Law and Order section for questioning over allegations that Sekeramayi and Parirenyatwa poisoned Vice President Mnangagwa," wrote Mutodi on his Face book page Tuesday, evening.
Mutodi said the state should stop persecuting him, and should rather investigate the Vice President's poisoning.
"While I was expecting the government should institute a commission of enquiry into the poison case, it is me who actually is now being charged under section 41 of the Criminal Law code, that for publishing false information that is prejudicial to the state," said Mutodi.
"It's hard to think how they know the information is false if the accused persons have not been arrested and charged with the assault," he said.
Mutodi insisted that Sekeramayi and Parirenyatwa be arrested and prosecuted for the alleged poisoning of the VP.
"There is a prima facie case against them that needs to be investigated irrespective that they are ministers. How can their arrest be prejudicial to the state when they are mere ministers and members of parliament? They have no immunity and can be arrested just like any other citizen," wrote Mutodi.
He said the state was persecuting him for publicly supporting Vice President Mnangagwa.
"Why should police just target me for arrest when it skirts those facing such serious allegations of assault and attempted murder? How many times has Jonathan Moyo undermined the authority of the president and even calling a program approved by him "ugly culture", in addition to denigrating senior leaders?
Previously, I wrote about how Mujuru had planned to assassinate the president of the republic and no police officer ever knocked at my door," said Mutodi.