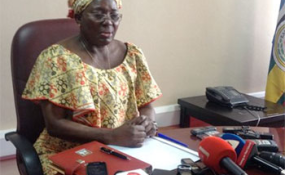 Photo: The Observer
editorial
The intervention by security minister Henry Tumukunde in the mysterious killings of young women in Entebbe and Nansana municipalities, both in Wakiso District, is commendable. And promises by Gen Tumukunde and police chief Kale Kayihura that they will sort out the matter are reassuring. But Gen Tumukunde's high level intervention comes late after the lives of 19 young women have been brutally ended.
Gen Tumukunde's effort to join forces with local leaders and security officers should have followed hot on the heels of the first brutal rape and killings in Nansana in May before it spread to Katabi Town Council, and Entebbe, all in Wakiso District. While interventions by both Gen Tumukunde and Gen Kayihura are commendable, their individual operations expose parallel workings and hint at inter-agency disconnect between the police and the Internal Security Organisation (ISO).
It should be now that both send unequivocal messages and work as one to net the perpetrators of these extremely wicked rape and killings.
What Ugandans demand of the police and ISO is a stop to the killings of young women.
And it is incumbent upon the police and ISO as mandated to maintain security, prevent and detect crime, ensure public safety and order; and to protect the life, property and other rights of Ugandans. This is why the police should not seek to gag nor run away from tough questions Ugandans are asking on public safety.
Regrettably, three months after the first killings, both police and ISO are still groping in the dark and running clueless about who is killing these girls of between 18 and 25 years. This is why it is essential for both Gen Tumukunde and Gen Kayihura to work together to end these criminal acts.
Unfortunately, there is an open disagreement between the security big guns.
While Gen Kayihura points to ritual killings, Gen Tumukunde isn't convinced. More regretful is that the police dragnet hardly points to any exactness, but random swoop down on 35 suspects.
Both Gen Tumukunde and Gen Kayihura should avoid any haphazard arrests that at the end fail to yield any actual perpetrators.
This has been witnessed in the recent acquittal of all the 14 suspects accused of murdering two Muslim leaders. All the acquitted were randomly arrested.
What has happened to the results-oriented and meticulous criminal investigations department of the police?
Why the Force ending up with random arrests of suspects as has been witnessed in the case of the murder of former Assistant Inspector of Police Andrew Felix Kaweesi?
Certainly, cooperation and not discord between Gen Kayihura and Gen Tumkunde and their agencies should help to sort out some of these loopholes.