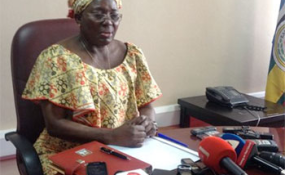 Photo: The Observer
editorial
By Editorial
In the last three months, some 19 young women have been murdered in Wakiso district, especially around Entebbe municipality, Katabi town council and Nansana municipality.
These deaths have increased in frequency over the last few weeks, and seem to be taking the shape of serial murders executed by an individual (or group) with a certain level of organisation and sophistication.
This means that the perpetrators of these murders are not likely to stop soon, especially if they are trying to make some kind of statement by operating right under the noses of the country's many security agencies.
It is therefore, disheartening to see the police take a simplistic approach to finding the answers to these murders. Take the statements attributed to the inspector general of police, Gen Kale Kayihura, for instance.
On a visit to Nansana, Kayihura said "there is strong evidence linking the murder of the married women to jilted lovers."
He also attributed some of the murders to ritual sacrifice. Security minister Henry Tumukunde has also pitched camp in Entebbe, saying he was launching his own investigations into the wanton killings that are being executed not too far from the president's official residence.
Tumukunde, a retired major general of the Uganda People's Defence Forces, confessed that security agencies do not know if the killers are connected.
What the visits to the crime scenes by the top security officials in the country show is that three months after the first murder, security agencies are yet to make out the head or tails of the killings that have spread fear across nearly all parts of Wakiso and its vicinity.
Police seem to have picked a knack for making premature pronouncements whenever it is confronted with a complex investigation, and then working backwards to try to prove to the public that its initial theory was right.
This is a practice that police should ditch. Lives are at stake here and there are no political points to score.
Therefore, the police, and other security agencies in the country, must get their act together, work in unison and do everything within their powers to end these killings.