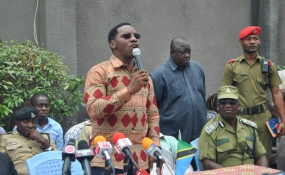 Photo: Daily News
By By Hellen Nachilongo
Residents of Toangoma, Masaki area in Temeke District were in a state of despair yesterday after learning of the government's intention to start demolishing about 300 houses, which are in the government's reserve (greenbelt).
Speaking to The Citizen yesterday, a woman who did not want to disclose her name said, "My husband and I just moved to our house not less than three months ago. However, we were recently left shocked after some people marked our house for demolition," she said.
Carrying her baby on her back, she said they are a low-income family, but strived to save their meagre earnings to ensure that they built their house.
"So where should we go now? My husband has told me that our house will be demolished and he can't afford paying rent and feed the family," she said.
According to her, this is not the government they expected to see, saying it is no longer fighting for the livelihoods of the low-income people.
Temeke Municipal Director, Mr Nassibu Mbaga, said yesterday that owners of the said houses were given a seven-day notice to vacate the area to pave the way for the demolition. It expired on Monday.
When contacted, Temeke District Commissioner, Mr Felix Liaviva, said he was not aware of the notice.
Mr Liavava noted, however, that he had already talked to house owners and asked them to vacate the area without force, stressing that there will be no compensation.
Malela local government chairperson, Ms Salama Maleta told The Citizen that she was aware of the pending demolition, saying it will be carried out in several wards namely; Masaki, Changanyikeni, Vikunai, Malela and Goroka B.
"Most people buy land without enough information and due to this, such things must happen. There are some areas that are reserved. They can know about this when they consult the local government authority," Ms Maleta said.
Another resident, who did not want to be named, said he was frustrated at the government's silence when construction of the houses was in progress.
The Citizen tried to contact Toangoma Street Chairman Mr Hassan Bakari, but in vain and his office closed.