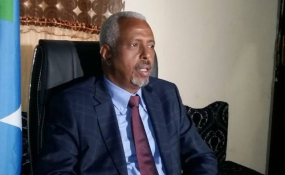 Photo: Shabelle Radio
Somalia's southern semi-autonomous region of HirShabelle is in final preparation for a Presidential election, a week after ousting former and 1st President, Ali Abdullahi Osoble.
Abdiweli Sheikh Ali, the spokesperson of the newly formed Electoral commission announced that the new President next month will be elected by the state lawmakers in September.
The election is expected to be held in Jowhar, the interim capital for HirShabelle, where the administration has been working since its establishment by the end of 2016.
The regional assembly has voted out the former President following a no confidence motion. Osoble who has been in power for nearly a year was accused of incompetence.