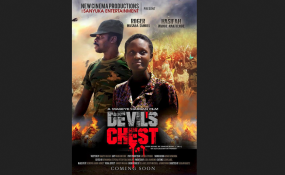 Photo: KonyMovie/Facebook
By Andrew Kaggwa
The fifth edition of Uganda Film Festival enters its third day today with a variety of activities including screenings in cinemas around the city. Screenings start at 10am up until 4pm every day until Thursday this week.
Films such as Nazaala, Lost Journey and Rain will be screened at Cinema Magic Naalya while Century Cinema will showcase Aganza Kisaka's Faithful, My Dream and Ekikubo, among others. According to organizers, Uganda Communications Commission, each day, the festival also hosts a corporate screening for people that could not watch the day-time films because of the schedule timing. These invite-only corporate shows feature some of the most nominated films and rotate within the participating cinemas. For instance, the first corporate screening was
Breaking With Customs on the opening night, while Rain, staring Eleanor Nabwiso, was aired last night at Acacia Mall's Century Cinemax alongside Break In at the Makerere-based Cinemax. The five-day festival was launched on Monday at the Acacia Mall-based Century Cinemax.
The colorful event was attended by filmmakers, broadcasters and other film industry stakeholders with UCC executive director Godfrey Mutabazi represented by Fred Otunnu, UCC's director for corporate affairs.
Otunnu said that the past five years of the festival have seen the quality and quantity of entries grow. According to Otunnu, the festival this year received 145 entries of films in different categories such as short films, TV dramas, feature films and documentaries.
The festivities opened with creening Breaking With Customs, a film by T.West and one of the most nominated films. Speaking to The Observer, T.West, the lead actor and director of the film, said he intended to appreciate culture and values with his piece of work and he is happy he has received recognition that even includes the Film of the Year nod.
Breaking With Customs is a film about two lovers that set out to defy the odds and fight for their love even when the girl has been bestowed to a chief. The film received a harsh reception as patrons questioned the criteria that got it almost all available nominations. "I find the story lacking, it needed more scrutiny before being shot," argued one filmmaker.
The festival will also run screenings and an exhibition at Muganzirwazza complex in Katwe, Kampala, where different businesses that deal in either making or exhibiting film will are being showcased.